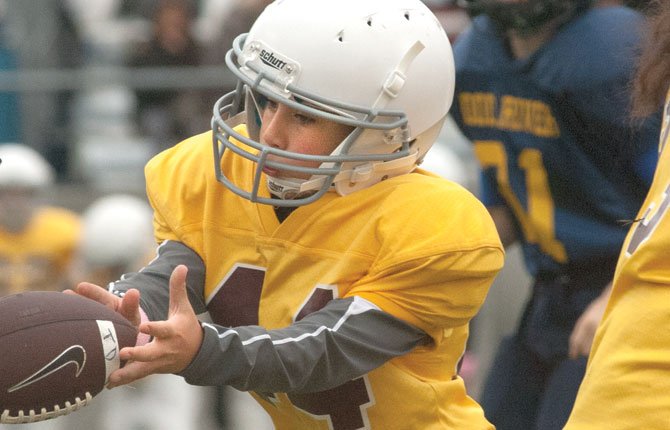 As the hot summer sun gives way to crisp nights, hoodie sweatshirts and earlier sunsets, another community staple is barreling closer to fruition — football season.
Around the globe, children of all ages strap on the pads and execute plays, make tackles and cross the goal line in a sport that continues its meteoric rise in popularity.
Although only a small number of today's athletes play in the professional ranks, the emphasis of The Dalles Youth Football is on giving athletes from the ages of 5 through 12 an outlet of gridiron success. A starting point in developing a skill set where they can enjoy gains to make a jump into the middle school and high school ranks.
One athlete who believes in the process of youth football isChaise Shroll, a 2014 The Dalles Wahtonka graduate and incoming freshman at Bethany College in Kansas.
The former all-league linebacker and quarterback got his start at Sid White Field playing youth football. He credits the first floor of youth athletics for initiating his love of the game.
"Once I played my first game I was hooked. I love football," Shroll said.
"I had a great time playing with all of those kids; some of them ended up being my teammates. You get great coaching and you have fun. That's an experience you can't get anywhere else."
The Dalles Youth Football League is offering chances for boys and girls to develop a love of the game for flag and tackle football this fall with a final signup surge in front of Thursday's deadline.
Boys and girls in the first and second grades are welcomed to sign for flag play in September and costs are $40 per child.
The fees for the tackle season (for kids in the third-through-sixth grade) are at $100 for each athlete.

Parents should note that all interested athletes have until 11:59 p.m. Thursday night to sign up.
No late entries will be accepted.

Registration is available online by going to www.tdyfootball.com and clicking on 'Register Now,' which is the last tab on the left-hand side of the screen.
With the introduction of football at an early age, players get a chance to learn the intricacies of the game, such as strategies, techniques, fundamentals and acquiring the knowledge and responsibilities of every position on the field.
As a former standout linebacker and running back, TDW graduate David Saylors hooked on with an 18-year-old and up semi-professional football team, out of Vancouver, Wash., called the Clark County Vipers.
He is perennial all-star selection, who believes in honing in on the finer points of every position.
"Biggest thing is for the kids to like football and want to work at getting better," he said.
"Football is not an easy sport to learn, but when you get good coaches teaching you, it could become second nature, like you will know where to be and what to do and your skills are added to the instincts you are taught."
It all starts with knowledge — sharpening skills and repetition through games and practices that will breed a better overall player down the road.

Second-year The Dalles High School football head coach Steve Sugg is a big proponent of that sentiment.
"By teaching those kids the basic fundamentals of the game at a young age, it helps them feel more confident in their abilities as they get older," Sugg said.
"It takes the fear factor or apprehension out of the picture because they have already experienced it at a young age and they will be more confident to expand on their abilities as they get older."
So far, close to 90 athletes have already signed up for play, a slight dip in the numbers from the usual 100-120 each year.
With talk of injuries and awareness taking center stage in the news, former TDW multi-sport athlete and Willamette University graduate Ryan Johnston quells those concerns based on his experiences.
"One thing I will say is, coaches need to know and once they do, they will side on caution," he said.
"Too many people worry a coach just wants to win. They care about the players and their safety. In any sport, safety and fun are the most important things that matter. When parents understand that, I think they will worry a lot less."
Another major aspect of trying to establish a larger base of youth athletes to the gridiron game is to compete with programs in the larger metropolitan areas.
Many surrounding programs in Bend, Medford, Portland and Hermiston are ahead of the curve in developing young talent from youth and older.

If TD cannot cement that notion into the athletes and parents, then it would make the ability to compete with some of the upper echelon programs that much more daunting.
With the youth program bringing in good coaches and competitive players, the sky is the limit.
Last year, youth coaches John Schacher, Joe Abbas and Dan Nelson took 19 sixth graders to Eastern Oregon University in La Grande.
The contest between La Grande and Hermiston provided them with a good gauge as to the level of talent The Dalles has to offer against teams and players from outside the greater Columbia Gorge.
More than the learning experience for the athletes involved, Abbas said that the coaching staff gained further knowledge on areas they need to improve upon and areas they are most proficient.

"We can take this back to TDYF and our local league to improve development of our youth for middle school and high school football," Abbas said.

From Abbas, Schacher and Nelson to new middle school football coach Paul Beasley and all the way up to The Dalles coaches Sugg, defensive coordinator Rich Belanger and assistant Rick Wilson, maintaining communication and creating a collaborative bridge bodes well for the future.
But, it all starts at the youth level by creating a fun, learning atmosphere for burgeoning gridiron playmakers.
"I think the kids are there, especially in the lower levels. The numbers are there," Sugg said.
"But, what we've got to do is just take success from the youth program and the middle school program and build it into the high school program."
TDYF has scheduled a conditioning camp from 5-6 p.m. on Monday, Aug. 4, at St. Mary's Academy for third-and-fourth graders.
Fifth-and-sixth grade players hit the field for their conditioning from 6-7 p.m. at the same location.
There will be a parent meeting set up at 6 p.m.
Tackle practices kick off on Monday, Aug. 11, and flag football assessments and a parent meeting are staged for 6:30-8 p.m. on Wednesday, Aug. 20.
Starting at 9 a.m. and running all day on Saturday, Aug. 23, the Gorge League Jamboree will take place at 9 a.m. in White Salmon, Wash.
People wanting more information on the league, can access tdyfootball.com or call the offices at 541-340-6610.
READ NEXT TOP STORY: Longtime county agent Ed Bonham dies at 90