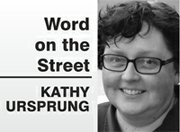 I cook with wine, sometimes I even add it to the food.
— W.C. Fields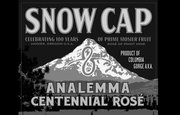 Of wine and time:  A good wine needs time to mature and so does a good city. This year, Mosier matures to the ripe old age of 100 and the Mosier Valley's youngest winery, Analemma Wines, which opened this year, will celebrate with a new wine release, it's Centennial Rosé. The limited-edition vintage is made from 100 percent Columbia Gorge AVA grown grapes. It celebrates the rich fruit-growing heritage of the Mosier Valley. Twenty-five percent of the proceeds from the wine will go toward beautification projects in downtown Mosier.
The label on the bottle is reminiscent of the historic Mosier Snow Cap fruit label, under which cherries, apples, peaches, pears and plumbs were once packed. The fruit was sorted at the Mosier Fruit Growers' building in downtown Mosier and loaded on rail cars headed to market.
On wheels with i3D: Integrated 3D, the new industrial 3-D printing company at the Port of The Dalles Industrial Park, is making news in the Portland area with a new 3-D printed bicycle they have produced as a prototype developed by Portland design firm Industry and hand-made bike manufacturer Ti Cycles.
According to a story in the Portland Business Journal the bike, named SOLID, is Portland's entry into the five-city bike design competition held by the nonprofit Oregon Manifest. Other competing cities include San Francisco, Seattle, Chicago and New York. The winning entry will be produced by Fuji Bikes.
In addition to the 3D printed titanium frame and handlebars, the bike includes high-tech features like haptic feedback from the handlebars for navigation and embedded GPS.
Voting in the cycle contest is open through Aug. 3 at noon and i3D is asking local residents to help sway the outcome. To register a vote, viewers must go online to http://oregonmanifest.com/vote, watch the short videos for all of the cycles and then vote.
Saving the garden: Preserving food can help home garden bounty last throughout the year and Wasco County has some experts who can help get folks started. Master Food Preservers will be at Sawyer's True Value doing free pressure canner gauge testing from 11 a.m. to 2 p.m. Saturday, Aug. 2.
Pressure canners are required for safe canning of certain kinds of food, including many vegetables and meats. It's important to have gauges tested annually before using them.
Mayor in the hot seat: The Dalles Mayor Steve Lawrence will be the guest speaker at The Dalles Area Chamber of Commerce Government Affairs Committee this Thursday, July 31, from 7 to 8 a.m. at The Barbecue Restaurant.
Lawrence will be answering questions about city concerns and issues.
Next week's meeting will feature Duane Francis, CEO of Mid-Columbia Medical Center.
Do you have an item for Word on the Street? Email kursprung@thedalleschronicle.com or call 541-506-4601 and leave a message.