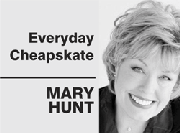 Dear Mary: I sure hope you can help me. I'm at the end of my rope with the floor of our fiberglass shower. It's stained and gross. I've wasted a lot of money on fiberglass cleaners but nothing works. I cannot afford to replace the shower, which is in excellent functional condition. Any suggestions? — Roy M., Utah
Dear Roy: Sounds like it's time to bring out the big artillery. Make a trip to the grocery store for Twenty Mule Team Borax (you'll find it in the laundry aisle) and on the way home stop at the home improvement store for FINE drywall "sandpaper" (it's not really sandpaper; it looks more like window screening and is sometimes called a drywall sponge). Mix 1 cup borax and 3 cups baking soda into a scouring powder. Dampen the floor of the shower, sprinkle on the powder generously, and then scrub the floor with the drywall sandpaper as you would a sponge. Rinse and repeat as necessary. Caution: This is for otherwise hopeless situations and textured fiberglass tub and shower floors, not smooth fiberglass surfaces.
Dear Mary: I learned today that I'm losing my job in a few months. I am in a quandary whether to squirrel away every penny I can or pay off my debts now. I have $18,000 in my emergency fund and credit card balances totaling $3,000. — Ann Marie K.
Dear Ann Marie: If you know for sure you would be paycheck-less for only a week or two, I would advise you to pay off that $3,000 right away. But who knows? One week could turn into months — perhaps many months. So my advice when facing a season of unemployment is to hoard cash. If you get severance pay or other lump sums, don't book a cruise!
Sock it away. If you have been paying more than required on your debts, pull back to the minimums for now.
Go on a spending diet. The tactic here is to make sure you can stay current on all of your obligations for that unknown period of time it will take to find your next job. At that point you will be in good shape to embark on an aggressive plan to repay your debts quickly.
Never underestimate the peace of mind that having money in the bank can bring during times of uncertainty. That can mean the difference between finding a great job and jumping on the first thing that comes along because you are desperate.
Mary Hunt is founder of www.DebtProofLiving.com, a personal finance member website.