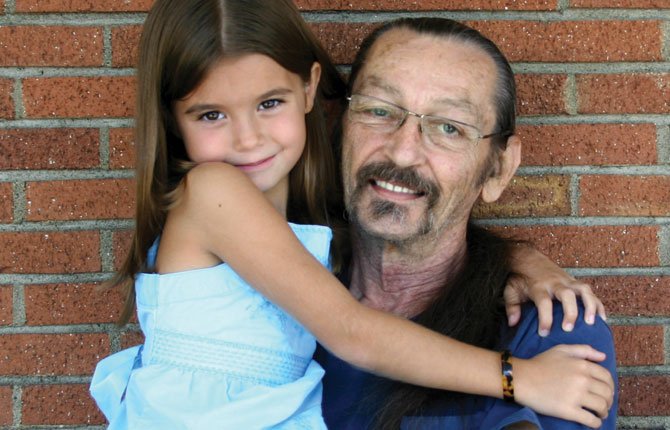 When the going gets tough, 7-year-old Alyssa Whitwell is a good person to have around.
Her grandfather, Lynn Whitwell of Wasco, learned just how helpful she can be after he lost consciousness from low blood sugar. Lynn is a diabetic and the consequences of low blood sugar can be life threatening.
Alyssa was planning to stay with her grandfather overnight July 22. Lynn was cooking dinner.
"I was coloring on the chair and he was cooking something on the stove," Alyssa explained.
She noticed that her grandfather was sweating. He started to walk and hit his foot on the table before falling on the couch. Alyssa tried to wake him up, shaking him and screaming into his ear, but she couldn't.
"I didn't remember any of it," Lynn said. "I kind of remember going in to start the water boiling to put the corn in the water."
Alyssa knew something was very wrong and she needed to act. Asked how she knew, she said, "Mommy."
As a way of preparing Alyssa to go stay with her diabetic grandfather, Alyssa's mother, Amber Tuala, explained the symptoms of a diabetic reaction: sweating and suddenly "falling asleep" and not being able to wake him.
"If that happens, I told her to find papa's phone and call 911," Amber said. "She said, 'I really hope I don't have to do that.'"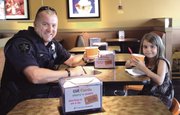 And that's just what Alyssa did. Unfortunately, her grandfather had only a cell phone and had just recently moved to Wasco. So dispatchers and emergency responders were faced with the challenge of figuring out where Lynn Whitwell lived.
It was the first time Alyssa had visited and she didn't know the address at the new house.
Dispatcher Kyle Burnett at Frontier Regional Emergency Dispatch, was the first person Alyssa talked to.
"It was definitely a unique call," Burnett said. "Kind of a nice reminder of why we're here at dispatch." He said the call went better than a lot of calls involving adults.
"She was pretty calm," Burnett said. "I asked her at one point if she was OK and she said she was doing just fine, but her heart was kind of racing."
Alyssa was able to describe Lynn's symptoms and tell Burnett that her grandpa is diabetic.
"It helped out to know what was going on," Burnett said.
Next Burnett had to find out where the Whitwells were.
"I kept asking her basic questions, like landmarks and so on," he said. "Eventually, she remembered she was in Wasco, but she couldn't exactly tell me where in Wasco."
Burnett explained what a license plate was and asked Alyssa to go outside and read the numbers. Fortunately, Lynn had already changed his address on his vehicle registration, so Burnett was able to determine the address.
"My partner did an awesome job," said Julie Lantis, who quickly got emergency response units rolling, even before the address was pinned down. "My role was to get the help rolling toward whatever the problem was." She also handled other calls from the four-county area the dispatch center covers while Burnett focused on directly helping Alyssa.
Emergency medical technician Rod Asher of the Wasco Volunteer Fire Protection District was the first on the scene along with his partner, emergency medical responder Joe Blunt.
"We got the call, and when we found out it was a young girl and her grandpa was unconscious, we perked up our ears," Asher said. With the ambulance 9 or 10 minutes away in Moro, the first responders bring equipment to the scene to provide life-saving care until the ambulance can arrive.
Sherman County Sheriff's Dep. Brian Hulke was next to arrive and, while the first responders cared for Lynn, Hulke looked out for Alyssa.
"That little 7-year-old was smart as a whip," Hulke said Tuesday. "When I first got to the house, she was a little overwhelmed. Then she talked to her mom on the cell phone. When she saw the police car, she said she had never sat in a police car. She did a great job."
Hulke said he hopes schools and parents are teaching children about how and when to call 911.
"If she hadn't called when she did [her grandfather] would have passed away."
The ambulance crew in Moro, EMT Intermediate Jerrilea Mayfield and EMTs Tanya Barrett and Julia Hubbard, were en route to Wasco even before the address was pinned down.
"His blood sugar was down below 40," Mayfield said. "He was unresponsive. He was breathing but he looked horrible. He looked like a typical diabetic that has crashed. I asked Alyssa if she'd ever seen her grandpa like this. She said, 'No.' She knew he was diabetic, but she didn't know what was wrong."
Mayfield learned Alyssa and her grandfather had played at the park before returning home for dinner. The young girl told Mayfield about the symptoms that had led her to call 911.
"She stood right there while we did IV shots," Mayfield said. "She didn't flinch. She wanted to watch. Usually, kids are freaking out. And she wasn't scared to go with Brian."
"I got to ride inside the police officer's car," Alyssa said, retelling her experience. "I got to ride in the front seat. He took me to Double Berry!"
The deputy and his young charge stopped by the yogurt shop for a break in the action — and a photo together — before Alyssa joined her mom and grandfather at Mid-Columbia Medical Center.
Lynn was better the next day.
"I'm very grateful to all the people involved," he said. "It usually doesn't take me long to get back, but this was a little rougher than most."
READ NEXT TOP STORY: D21 expands language arts