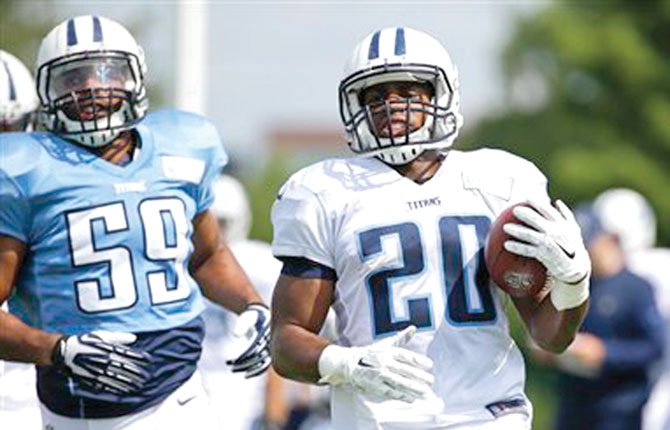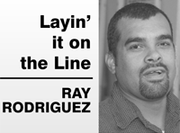 Tick, tock, tick, tock, tick, tock.
The clock is running at a rapid rate as the gridiron season is fast approaching.
While boys and men are in the throes of exerting physical strength in practices and games with boiling testosterone coursing through their systems, every Sunday from August 3 until December 22, I will be crouched in front of a 36-inch television in nacho-cheese stained sweats with cholesterol clogging up my veins for an aged-old tradition – football.
Not just any football season, however – fantasy football – where a snot-nosed middle schooler can utter mocking words on a blog post that cut through a man's torso like a knife through butter after his third-string running back scores 15 points in a three-point victory.

Yes, that kind of season. Trash talk is just one element of the fantasy world. As the weeks run on, skill and luck have a lot to do with ultimate success as well.
For the past couple of seasons in The Dalles, I have enjoyed some good outcomes – two championships and three second-place finishes, but my mojo has gone astray of late.
Last year, I finished in a tie for last place in one league, third in another and had a few playoff berths, but was bounced in the second round.
Not cashing a check bruised my soul.

But I digress.
It is the game – all fantasy players speak in code, talking more about the losses and missteps than the wins.
Just the word fantasy football makes women shudder in their boots, because they know a single play can disrupt harmony in the household for weeks at a time.
When a fantasy football manager sees impending doom and lackluster performances from his active roster, so much is affected.

Relationships are altered and work productivity grinds to a screeching halt.

These prognosticators can be nervous wrecks, easy to fly off the handle and everything else around them appears to be in a haze. All the voices around sound like a Charlie Brown cartoon, the yard work gets put on the back burner, shaving is a no-no and all else in the world is a non-factor.
Friends?

Forget about it.
Our only friends are Jamaal Charles, Jimmy Graham, Ray Rice, Jordy Nelson, Codderrelle Patterson and Alfred Morris.
On the bright side, this five-month span works as a diversion and an activity that keeps the brain working, while dealing with real world issues and all of the drama in between.

This outlet gives us absolute control and humanizes us in a way and, in all reality, brings the best and sometimes worst out in people.

Nevertheless, it is a necessary evil.

Forty million so-called experts engage in this activity each year. Fantasy players spend nearly two hours a day trading, scouring the free agent lists and reading injury updates.

Individuals are hired as television, radio and print analysts for fantasy's sake.

The thrill of it all captivates people to no end.

Sundays are an event and my fantasy brethren cannot focus on anything else because we wake up at 8 a.m. on a Sunday as if it is Christmas morning for a cavalcade of games as if our lives are hanging in the balance.

This is our world, like it or not.

Some people fish, some work out, a few windsurf, while others play Sudoku to stay entertained.

Fantasy football is nerve-racking and stressful, but it is the thrill of victory and the agony of defeat that keeps us coming back over and over again.

We want the bragging rights, the non-stop action and when we do not get it, we go through shakes and anxiety spells.

In what other world can a person scream and shout at the top of their lungs in the middle of mass when Maurice Jones-Drew busts loose on a 38-yard scoring scamper that puts RG-3PO into a 112-108 lead over The Kamikaze Acorns with four minutes left on the afternoon schedule?
I am not going to get it twisted, because in essence, fantasy football is fake and phony and those that play are part of a made up sphere – ugly and beautiful.

Some may say, in order to win a fantasy league, so many things have to go right — like luck, the right pieces formed at the right time, skill or by throwing caution to the wind.

While this is true in some respects, it comes down to preparation and maintaining focus through the ebbs and flows of the season.

Just like 40 million other souls, I am a fantasy sports geek and with catastrophic injuries and poor performances, so much can turn this smile upside down.

So, if you see me sprawled out on the front lawn of The Dalles Middle School, crying, barefoot and crying with a full beard, in my nacho-cheese stained sweats, it is because Eddie Lacy shattered his leg in practice early Thursday and Jersey Joe Giants scooped up his backup, James Starks, mere seconds before I could hit the "Enter" button.

And just like that, we are ready for some football.
READ NEXT TOP STORY: West Africa Ebola outbreak tops 700 deaths