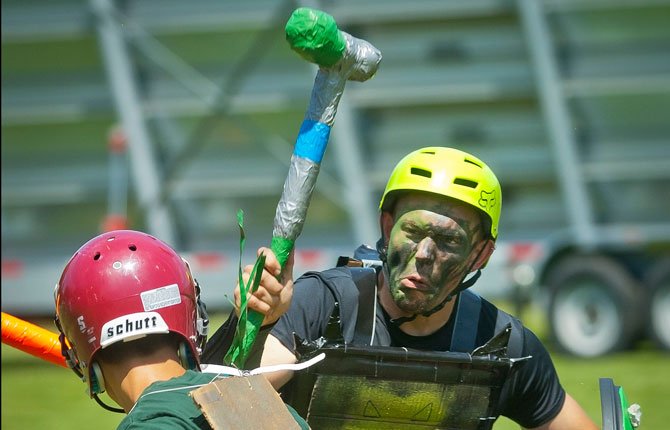 Carrying weapons fashioned from administration-approved materials such as cardboard, foam and plastic, factions of The Dalles High School sophomores charged while eliciting fearsome battle cries Friday, May 30, in a contemporary, bloodless rendition of the famously disastrous Trojan War.
After completing the final Advanced Placement World History exam in May, students decided they wanted to reignite the old tradition of waging the mythical war of epic proportions on Amaton field in celebration of their recent accomplishments.
"This year's AP World History course accepted responsibility for researching their armor and procedures, labored assiduously to prepare and enthusiastically engaged each other in simulated combat," TDHS AP history and literature instructor Tim Zenker said. "Very well done!"
With only their makeshift armor, wits and the almighty power of the gods to protect them, students went head-to-head during the day's lunch break as each warrior attempted to claim as many "lives" as possible.
"The re-enactment of the Trojan War was brutal, but fun," Parker Lupkes, participating student soldier said.
"War has never been so gender equal," sophomore Timarra Roth added. "The top 'killers' were actually a group of four girls with water balloons."
Students spent two weeks preparing for the battle, which involved everything from designing their own weapons and armor, to making sure each passed the "Does this make your arm go numb if I whack you with it?" test, according to students.
Those weapons deemed too physically harmful were disqualified and had to be redone, and each student soldier was required to wear a sanctioned helmet in order to shield his or her potential future scholarship-winning brain from damage.
"This war is a representation of all the obstacles we have overcome as an AP family," sophomore Susan Ramirez said, echoing other students' comments about how it felt to celebrate their accomplishments through such kinetic creativity.
"This is how our AP family resolves issues," student war correspondent Joshua Osborne added jokingly.
Zenker said that if next year's AP World students display the same level of determination as these, the year-end tradition will undoubtedly carry on.