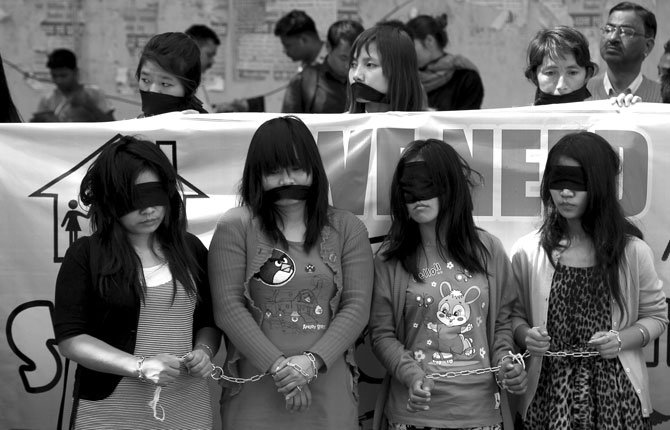 We see it nearly every day in the news headlines: Schoolgirls abducted in Nigeria. Gang rape in India. Sexual violence in war zones. Shooting sprees targeting women.
The World Health Organization has declared violence against women an epidemic, calculating that one in three women worldwide will experience sexual or physical violence — most often from their husband or male partner.
It's not a new thing by any stretch of the imagination. Violence against women has been a constant of world history, a way of subjugating the women themselves and declaring supremacy over a fallen foe.
What is different today is the elevated profile of such atrocities as they are splashed across the headlines yielding a heightened level of outrage — and a heightened level of action.
On May 8, Sen. Barbara Boxer of California and several of her colleagues introduced the International Violence Against Women Act, a bill intended to make anti-women violence a higher diplomatic priority for the United States.
Changes are occurring domestically, too.
The Obama Administration has raised the profile of college campus sexual violence and is pressing for greater oversight under the argument that sexual violence is a violation of civil rights laws. Some 55 colleges are being investigated over their handling of sexual violence complaints.
Even closer to home, recent changes in the Violence Against Women Act are now allowing the Warm Springs Reservation to serve as one of three national pilot programs for allowing tribes to prosecute nontribal offenders.
The idea is to defuse rampant sexual violence — a case of when, not if, according to advocates — against tribal women, mostly by nontribal men.
The roots of our sexual violence troubles are buried deep in the roots of a world culture where women were long viewed as chattel, or property, and continue to be viewed that way in some cultures.
As women have attempted to step outside traditional roles of home manager and caregiver, resistance has continued at varying levels, from physical violence to subtle put-downs.
One young advocate coined the phrase "mansplaining" for the tendency of some men to feel they must advise and correct women with unsolicited paternalistic advice.
The term "glass ceiling," coined 30 years ago, still applies to women in business, who may find barriers to upper management jobs and salaries that don't measure up to those of their male counterparts.
The problem of violence and discrimination against women has been explored in all its nuances on Twitter in the days since the Elliott Rodger attack in California under hashtags such as "YesAllWomen." The posts from around the world talk not only of rape and other violence, but of things like the day-to-day workplace practices that may not rise to the level of sexual harassment, but contribute to a culture of "putting women in their place."
As more nations bring pressure to bear in an effort to end global violence against women, the seeds of a less violent world need to be sown at the youngest of ages. Teaching and modeling mutual respect and concern among the sexes, both at home and in other settings, will help sow those seeds.