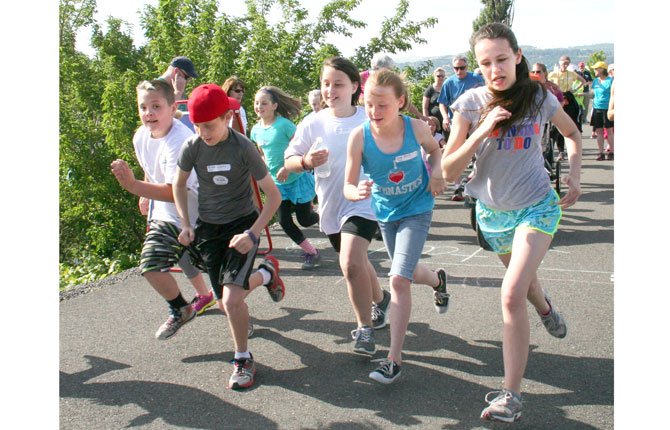 In a span of 365 days, local harrier Kolter Lynch showed why he is one of the up-and-coming athletes in the area, as the phenom picked up a second-consecutive 5k win in this weekend's Columbia Gorge ESD Rainy Day 3k, 5k and 10k run held at Kiwanis Park at Klindt's Cove in The Dalles.
Last year, Lynch was embroiled in a three-horse hustle to the final finish, ending the run in an impressive 25 minutes and two seconds.
Although more than two minutes were added to the final tally this time around, Lynch still managed top honors with a 27:29, slipping past second-place Mimi McDonell (28:06) by just 37 seconds.
Hanna Ziegenhagen and Lucy Booth were neck-and-neck for third and fourth place in the standings, with Ziegenhagen squirting free down the stretch for a time of 38:48 to Booth's 38:49.
Debbie Sanguras placed fifth in 39:53, Nancy Matthews was good for sixth with a 44:36, and Sandra Haynie had a 47:51 for seventh place.
Carolyn Crystal and Cindy Krehr (51:54) and Mikayla Matthews (53:47) rounded out the top-10.
There were just a handful of participants signed up for the 10k run, as Erin Haynie scorched the small field in 49:46.
Scott Bryan notched third place in 58:03, and Liz Narciso scooted home in 111:25.
In the shortest event of the day, there were 21 competitors signed in for the 3k race, as Will Booth came out on top with a dominant performance for first place with a reading of 14:44.
Ashlie Dunn came in second place at 17:03, Zoe Dunn scored third with her 20:19, and Blake added a time of 22:43 to secure fourth place and Vinny Ziegenhagen capped the top-5 placers with his marker of 23:03.
Kaitlyn Springer (26:30), Anna Springer and Steve Johnson (30:27), Kelley Barr (30:42) and Kade O'Meara (32:31) were the others who made up the top-10.
Up next is the White Salmon Backyard Half marathon starting at 8:30 a.m. for hikers and 10 a.m. for runners on Saturday, June 14 at Rheingarten Park in White Salmon, Wash.
A donation of $12 is suggested to participate.
For more information, email Mike Hannigan at hooligans412@gmail.com.