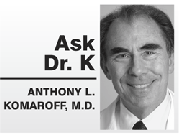 DEAR DOCTOR K: Between my job and kids, I rarely have time to prepare and sit down to a healthy meal. I've had my fill of fast food and energy bars. Any suggestions?
DEAR READER: It certainly is easy to eat badly. For one thing, as you say, many of us have very hectic schedules. Fast food is appealing because it's fast. But fast food is often unhealthy.
You don't have to sacrifice nutrition when you're on the go. I spoke to Dr. Michelle Hauser, a nutrition educator and clinical fellow in medicine at Harvard Medical School, and registered dietitian Kathy McManus, director of the Department of Nutrition for Harvard-affiliated Brigham and Women's Hospital. They offered the following tips to keep meals and snacks healthy when you're in a hurry:
— PLAN AHEAD. Plan out meals and snacks for the week. Make a list and go shopping. Then make time in your schedule to cook or prepare the foods.
— COOK IN BATCHES. Cook extra food to save time later. You can do this with entire meals or with meal elements. For example, cook a large batch of brown rice, then portion out and freeze the extra. The rice reheats in the microwave in minutes.
My wife and I do this a lot. Last night we had what my niece (when she was a child) called "Uncle's Famous Hamburgers." I mixed my secret ingredients into the meat about six weeks ago, and froze six meals' worth of patties — each meal two patties in its own zippered freezer bag. We'll have them every week or two. Same thing with "Uncle's Famous Spaghetti Sauce." An hour on a Sunday afternoon saves many hours down the road.
— EAT NUTRIENT-DENSE FOODS. Nutrient-dense foods are the ones with the most vitamins and minerals and the fewest calories. Try legumes (beans, lentils), dairy products (low-fat yogurt, eggs), avocados, leafy greens (kale, spinach), vegetables (Brussels sprouts, mushrooms, bell peppers), seeds (flax, pumpkin, sesame, sunflower), nuts, whole grains (barley, oats, quinoa, brown rice), fish and poultry.
— TRY A SMOOTHIE. Toss as many ingredients as you like into a blender, and you'll have a drink that can be used for a meal or a snack throughout the day. Plain yogurt and frozen berries and bananas are a good place to start. But smoothies don't have to be fruit-based. Vegetables (think carrots, beets and spinach) make delicious smoothies as well. Don't believe it? Try it. (Still, I prefer fruit.)
— KEEP SNACKS SIMPLE. Choose just one or two ingredients. Some satisfying and nutritious pairings include plain, nonfat Greek yogurt and a few nuts; a tablespoon of peanut butter and an apple; or chopped vegetables and a quarter-cup of hummus. Keep snacks packed in your pantry or refrigerator, ready to grab and go.
You've got to have chips sometimes? There suddenly are lots of delicious chips on the market that have no unhealthy trans fats and are very low in unhealthy saturated fats. But, in moderation, nuts still are healthier than even "healthy" chips. And, for me, more delicious.
Dr. Komaroff is a physician and professor at Harvard Medical School. To send questions, go to AskDoctorK.com, or write: Ask Doctor K, 10 Shattuck St., Second Floor, Boston, MA 02115.