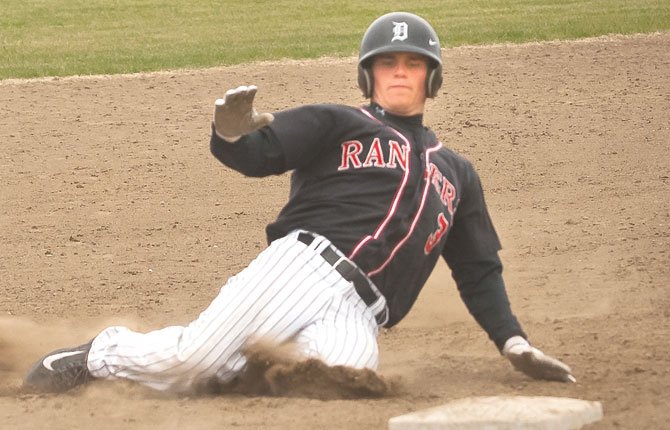 Pitching and defense have a lot to do with winning and losing ballgames, but in 2014, the Dufur Rangers showed that a potent offense can carry a squad a long way.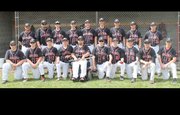 Five different players had batting averages north of .400 and the team scored 327 runs overall, good for fourth in the state.
Because of those numbers, the Rangers had nine players chalk up all-Blue Mountain Conference honors, seven on the first team, with senior Cole Parke picking up Player of the Year recognition.
Parke, Trever Tibbets, Jake Kortge, Josh Keyser, Nathan Duling and Nick Little had their names called as first-team recipients, and junior Bryson Caldwell was a second-team honoree.
Freshman infielder Connor Uhalde capped the illustrious field with an honorable mention bid.
On the season, Dufur scored 120 more runs than they did in 2013 and that led to eight more wins, as the group posted a 23-7 record during the season.
"We have been very successful this year, especially our bats," said Keyser, a senior. "We hit the ball very well and did a lot of great things."
Parke, who was also a first-team winner as a shortstop, slugged a team-high eight home runs this year and had a robust batting average of .578.
The leadoff hitter scored 63 runs, drove in 50 and 30 of his 59 hits went for extra bases. In 102 official at-bats, Parke struck out just five times and led the squad with 27 walks and 16 stolen bases.
The senior posted an eye-popping slugging percentage of 1.049 and was on base 67 percent of the time.
On the mound, Parke struck out 51 batters in 50 innings pitched and finished with a 7-4 record.
Dufur coach C.S. Little talked about the contributions of not only Parke, but the other four seniors.
"All of those seniors played a huge role in our success," the coach said. "They leave some big shoes to fill."
Duling, a senior from South Wasco County, who joined the Ranger roster for his final two campaigns, made his presence known for this Ranger offense, adding a career-high three home runs to his numbers this year.
The right-fielder had just one error on 26 chances for a fielding percentage of .962, finished second on the team with 14 doubles, drove in 32 runs and scored 29.
He had an on-base percentage of .456 and slugged for .670.
Keyser, the senior first baseman and closer, had one of his best seasons offensively from the middle of the batting order.
He pounded two home runs and five doubles and 35 total hits in 93 at-bats for an average of .376.
He scored 30 runs, walked 15 times, went 2 for 2 on stolen bases and had an on-base percentage of .478.
When patrolling the infield, Keyser had a fielding percentage of .965 on 171 chances and he turned four double plays.
From the mound, Keyser had a 2.53 earned run average with 32 strikeouts in 27 2/3 innings. The right-hander went 3-0 and posted three saves.
"Baseball has been a good experience for me," Keyser said. "I have been playing since I was four-years old and this has probably been my best season, as far as the group of guys I have been with. We played well."
When it comes to Tibbets, the junior was a force in the batter's box, a wall at third base and a dominant ace on the mound.
Tibbets chalked up his all-league status on the hill, where he had seven wins and a team-best two complete games.
The hard-throwing righty had an ERA of 2.78 and gave up 45 hits in 55 1/3 innings pitched. He struck out 50, walked 19 and 22 of the 37 runs allowed were earned.
Offensively, Tibbets had a .433 average with six home runs, 12 doubles, a team-high four triples, a team-high 52 RBIs and 38 runs scored. He finished second on the team with 10 stolen bases and enjoyed a .798 slugging percentage, second on the team.
With a pitching staff that surrendered 82 earned runs during the season and had an earned run average of 3.05, much of that success was due in part to the steady play behind the plate by Kortge.
The junior gunned down 11 base stealers in 37 attempts for a .297 average and he had just four errors in 48 chances.
Penciled in at No. 3 in the batting order, Kortge had a .350 batting average with one home run, seven doubles, 32 runs and 36 RBIs.
He walked 13 times and went 9 of 10 on stolen bases with an on-base percentage of .439.
Nick Little possesses the speed in the outfield to track down a lot of balls, so his play led to the pitching success.
In 40 chances, the junior committed one error and had a team-high fielding percentage amongst the regulars of .975.
Little hit .266, scored 23 runs, drove in 24 and smacked three home runs.
Caldwell was the lone second-team winner for the Rangers, but his numbers were on par with some of the first squad athletes.
The junior infielder batted .392 with 38 runs scored and 30 RBIs to go with a 13 doubles. In 102 plate appearances, he struck out five times and went 9 for 9 on stolen bases. He also had an on-base average of .492.
While the rangers were blessed with depth at pitching, Caldwell was one of those anchors on the hill.
He had a 2.19 ERA and he struck out 32, walked 10 and gave up 12 earned runs in 38 1/3 innings pitched.
Rounding out the league winners was Uhalde, the freshman second baseman.
Uhalde proved to be a gritty hitter in the box, and he responded well from his No. 9 slot in the order.
The youngster had a .345 average with 15 RBIs, 20 runs scored and an on-base percentage of .435.
He had a fielding percentage of .951 with two errors on 41 chances with 16 assists.
The team defeated Grant Union 8-7 in the opening round of the 2A state playoffs for their third win in program history, and they lasted to the state quarterfinal until a 16-9 loss to Monroe last Friday ended the run.
Uhalde is poised to bring back the winning feeling in 2015.
"We definitely look forward to next year and coming back stronger," he said. "We did not like the way the game ended (against Monroe), we did not play our best today. We need to cut down on our errors and work a little harder at practice to improve a little bit at a time."
Now that Duling is headed off into the sunset, he offered some praise for the underclassmen group. They were determined to improve and soaked in all of the knowledge offered by the grizzled veterans.
It is their time to shine to improve on this year's run into the quarterfinals.
He knows there is potential in place to go deeper.
"I would say to these younger guys to keep working hard," Duling said. "I want them to use this season and this game to drive off of as motivation. If they keep working and set attainable goals, they will achieve all that they want. I think they can be a great team. There is a lot of mental in baseball and I think if they go in with the mindset that they can do it, they can go get it. The sky is the limit."