"It is the month of June,
The month of leaves and roses,
When pleasant sights salute the eyes,
And pleasant scents the noses."
— Nathaniel Parker Willis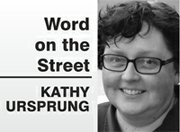 Help and have a slice: Big River Family Insurance will host a fundraiser for Relay for Life Saturday, June 7, in the Goodwill parking lot next to Starbucks from noon to 6 p.m.
They will be offering hand-tossed gourmet pizza cooked on the spot in a mobile brick oven.
Call 541-296-0269 to preorder cheese, pepperoni, sausage or spicy sausage, or let your imagination go wild the day of the event.
State perspective: "Oregon: Getting Better for Business" is the theme for The Dalles Area Chamber of Commerce's Power Breakfast this Fridya, June 6 from 7 to 8 a.m. at the Shilo Inn.
Ruth Miles, small business advocate for the office Secretary of State, will speak on the business climate and how the state is moving forward.
In addition, an announcement will be made about the latest expansion of The Dalles public wi-fi with a ceremonial "cable-cutting."
RSVP at 541-296-2234.
On the books: Klindt's Book Sellers owner Joaquin Perez and manager Tina Ontiveros are in the spotlight for this week's Chamber Government Affairs Committee, Thursday, 7 a.m. at The Barbecue. Also this month: June 12-Ann Harris, OSU Open Campus, June 19- Oregon Sen. Ted Ferrioli, June 26-round table discussion.