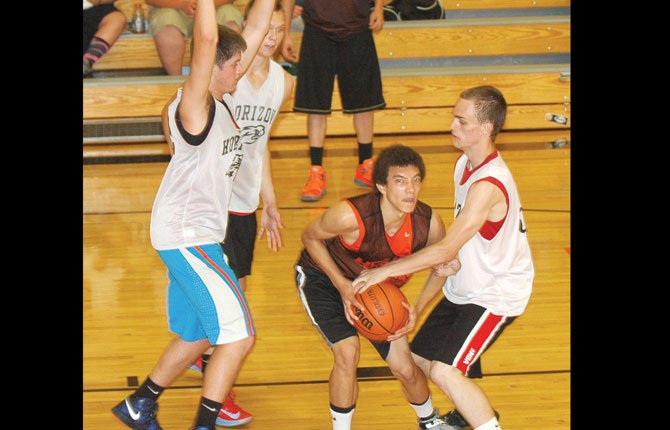 It is still six months from the official start of the 2014-2015 basketball season, but one of the most important times for jelling, working out the kinks and establishing continuity with new players and veteran standouts, summer basketball is a critical tool.
There already have been a few contests in the books with local athletes from Sherman, Dufur and South Wasco County hitting the hardwood with fervor.
At 5 p.m. on Monday, June 9, the Redsides travel to Dufur, and two days later the Rangers, coached by Tony White, will head to Moro for a game at 7 p.m. on Wednesday, June 11.
Kicking off starting at 5 p.m. on Monday, June 16, Dufur heads to Maupin for a date with the South Wasco County Redsides.
Then at 5 p.m. on Monday, June 23, Dufur hits the road for action in The Dalles.
Before that, the Huskies with head coach Bill Blevins host the three-day Husky Basketball Tournament in Moro, starting at 10 a.m. on Friday, June 20 and ending Sunday, June 22.
Action hits the hardwood at 9 a.m. on Saturday, before ending with a final game at 9:30 p.m. Consolation bracket play and along with the championship rounds will be played from 9 a.m. until the last tip-off of 4:30 p.m. on Sunday.
Just some of the squads invited include Horizon Christian, Ione, Powder Valley, South Wasco County, Dufur, Hosanna Christian, Triangle Lake, City Christian, Country Christian, Imbler, Nixyaawii, Triad, Southwest Christian and Three Rivers Christian.
On the Washington side of the map, teams are Sunnyside Christian, Rogue Valley and Walla Walla Valley Adventist.
While there will be some new names in the 1A league next winter season with Spray/Mitchell, the new-look Big Sky Conference will be without Nixyaawii, Griswold and Echo.
The Huskies will have a younger squad next season.
However, the district tournament qualifiers who won 14 games and had to win a tiebreaker game by a 44-30 margin over Dufur in February at Kurtz Gym in The Dalles, have Max Martin, Isaiah Coles, Maverick Winslow and Austin Kaseberg back in the fold along with incoming freshmen Treve Martin and Jacob Justesen.
The Redsides are coming off a 14-win campaign that saw them win one district game, but had their season cut short on Feb. 22 in a 58-57 setback to Nixyaawii.
David Ocacio, Nathan Duling and Tucker Nannini are the only SWC players not with the team.
There is plenty of depth and skill returning for veteran head coach Jim Hull with the likes of Loreto Morelli, Colton Nannini, Ellis Rager, Brody Myers, Devan Dammann, Travis Hayes and company hitting the court in full stride.
In the 2013-2014 season, Dufur Rangers and head coach Tony White took the Big Sky Conference by storm with 14 wins and a tiebreaker berth.
Only Austin Olson is gone from last year's roster, so all-league center Jake Kortge, forwards Bryson Caldwell and Levi Morris, along with speedy guards, Nick Little, Bailey Keever and Connor Uhalde make up a young, up-and-coming core group.