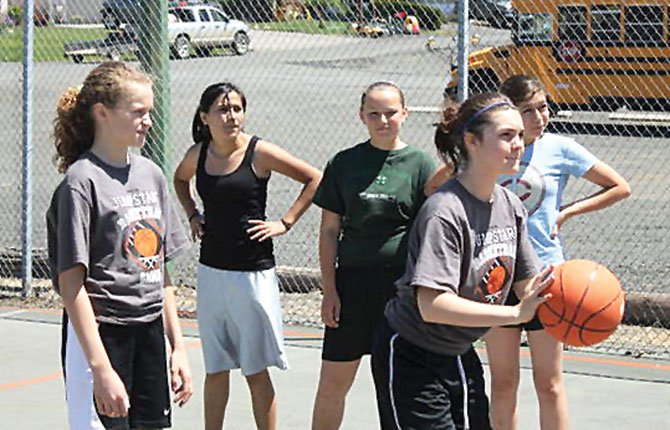 If a player wants to maximize their overall skill level in the game of basketball, extra work in the offseason is necessary.
Starting at 9 a.m. on Monday, June 23, the Jumpstart Basketball Camp gives up to 150 youths from grades 2-9 the opportunity to hone in on their hoops attributes in a five-day event at Dufur High School.
Program coordinator Tom Conklin will have the kids place their undivided focus on details, attentively listening to each word their coach offers.
Martin Huffman and Brian Stevens, along with several other former or current athletes from across the area, will be on hand for individualized instruction.
While an athlete may be blessed with speed, size, possess solid inside skills or a deadly 3-point shot, Conklin said none of those attributes matter if a player cannot mesh with his or her teammates.
"We spend a lot of time teaching about the character of an athlete," Conklin said.
Along with the opportunity to work together to practice their new skills, the aim of the camp is predicated on emphasizing the fundamentals, developing proper mechanics and gaining critical game experience.

Campers acquire and carry the knowledge over for a chance to get a solid start to their seasons.

In the end, there is no bigger tool then getting on the hardwood.
"In the process, I realized kids and all folks love to work towards a goal," Conklin added.
Early in the morning, the athletes sit down for a speech from one of the coaches, and then the instruction begins.
After a break, the kids get an opportunity to use their skills in friendly scrimmages, with coaches emphasizing proper techniques on the sidelines.
Once all of the daily work is completed, the campers get a chance to soak up some sunshine at Dufur City Pool for a dip in the drink.
The money raised helps fund the Jim Schultz Scholarship program at Dufur schools and many of the other Dufur sports programs.
In addition, Conklin said he feels extremely blessed to raise money from the Jumpstart track and cross country races, the hoops camp and other yearly events so he can cut checks for Home at Last, the Salvation Army, The Dalles River Trail Project and other programs.
Interested parties can email questions to Jumpstartyouthactivities @gmail.com or log on to Jumpstartcamps.com.