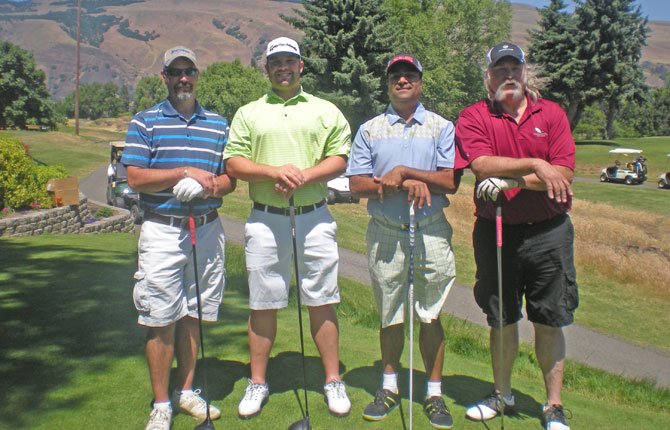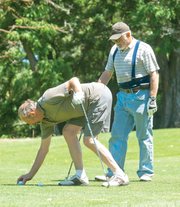 Golf was the name of the game, but for more than 150 linksters, the emphasis of the 29th Annual Tournament of Tradition Golf Benefit was placed on breast cancer awareness and raising funds for those in need of checkups.
On Monday and Tuesday at The Dalles Country Club, there were 38 foursomes on the course to support the Breast Health for Strong Families Program, which provides breast health education and free mammograms to those who qualify.
"We had 150 come out to support this event," stated Celeste Hill-Thomas, foundation executive director. "Money raised goes a long way in helping us fight breast cancer. So far, we've been able to provide over 270 mammograms for local women leading to five breast cancer diagnoses. Participation in this tournament can save lives."
Overall, the scores were on par with any other tournament with some groups participating in a net and gross classification.
Taking first place in the gross category were Tyler Austin, Craig Colquitt, Nanny Patel and Jason Miller, representing Oil Can Henry's in The Dalles. This group matched strokes for a solid margin of 51.
Scoring top honors on the low net side of the bracket was the team of Dave Gildersleeve, Brad Timmons, Rich Mason and Bill Wing, of Design Structures, with a 45.1 on the scorecard.
Just a few strokes behind the first-place group was Food Services of America.
That quartet was made up of Sue Neuman, Steve Bartlet, Dave Simanton and Jeb Boyer, and they combined for a 47.7.
In secondary events, Mindy McHale took home a trophy for winning the women's long drive competition.
Forrest Rawlings cruised past the field for tops in the men's long drive.
For getting one of his shots closest to the pin, Chris Vincenzo had the right stuff.
Throughout the community, there is a population of women who face barriers to getting screening mammograms.

The Breast Health for Strong Families Program was created to help break down cultural, geographical and financial barriers to care for local women.

Donations to the fund provide breast health education and outreach. Funds also supply patients with transportation assistance in the form of gas cards and bus passes.
For more information on screenings or to donate to the cause, interested parties can call 541-296-7275 or email mchf@mcmc.net.