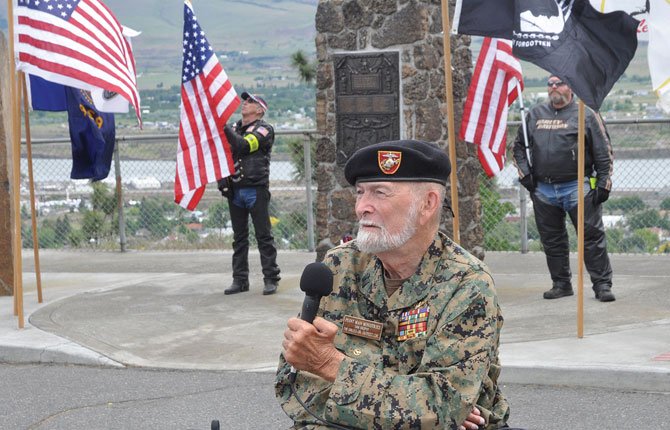 It is impossible to make peace with your past, said USMC Capt. (retired) Dan Brophy, unless you have faith that God can not only heal your spirit but forge a stronger person out of the pain.
Brophy, who was disabled by a .50 caliber bullet during his second deployment to Vietnam, is an ordained minister with Pointman Ministries.
He uses his experiences on the battlefield — including the loss of 14 out of 21 Marines in his unit during a first deployment — to help veterans who are struggling with combat-related trauma.
"Some of these guys are trying to macho it out and don't want to admit they have any problems," said Brophy. "But I tell them that they haven't conquered anything until they've had a good night's sleep, no nightmares and have rolled out of bed ready to make their today better than yesterday."
He said every veteran influences 19 other people with the issues he or she brings home from the battlefield. So, it is vitally important that the veteran, especially a parent, be willing to change harmful attitudes and behavior.
"You don't want your children to grow up thinking you are a nutcase and, if you don't find a solution to your problems, that's what they will be left to believe," he said.
"I think veterans who use the 'woe is me' whine are copping out to avoid facing reality and having to do the hard work to change things."
Brophy well understands the machismo that goes with the role of warrior. As a staff sergeant, he took on the role of drill instructor, considered one of the more honored and valuable positions a Marine can hold.
After completing a an arduous 12-week course that emphasized leadership, judgment, professionalism, time-management and, of course, physical fitness, Brophy was tough as nails and ready to roll.
His job was to instill — and sometimes literally beat — a love of the Corps into recruits at boot camp near San Diego, Calif.
His training procedures were vital to the 13-week process of making Marines, who are the "tip of the spear" in a military offensive and renowned for orchestrating "controlled chaos and violence" as an assault force.
Brophy was a military advisor during a 1964-65 deployment and lived and worked with the South Vietnamese Army forces at remote outposts often a great distance away from any U.S. or coalition support.
He earned his commission on the battlefield in the middle of a bloody firefight where he was the highest ranking Marine still standing. He was given command authority as a second lieutenant to keep the remnants of the platoon operational.
The last day Brophy would ever walk was during his second deployment on Feb. 23, 1969, when his body was broken by a bullet that was more than 2 inches long and about one-half inch diameter.
The bullet entered the hull of the low-flying helicopter that he was traveling in to mark targets with smoke grenades for air strikes that would help a group of embattled Marines on the ground.
The bullet fired by a machine gun pierced his foot, exited through his knee and drove upward into his carotid artery.
Brophy barely survived the four-minute flight to the nearest base for emergency medical treatment. He considers his recovery from such a major wound nothing short of miraculous. He said God still had things for him to do on this earth and it wasn't his time to die.
Confined to a wheelchair, Brophy took a medical retirement from the Corps in 1970 and became an ordained ministry by 1978.
He graduated with a master's degree in social work from Portland State University in 1980 and went to work for the U.S. Veterans' Administration before joining Pointman.
"I was in pretty bad shape, with a lot of anger, the first five years after my injury," he said. "I was mad at pretty much everybody and everything and my poor wife (Lynn) had to put up with a lot."
What he learned during that time of turmoil, said Brophy, was to use his military training to knock down roadblocks.
He also came to see that God always had his best interests at heart during the difficult shifts of reintegrating with the civilian world and learning how to live with limited mobility.
"It can be agonizing to process some of the things that happen to you out there but you can learn to 'Let go and let God' and then you will find peace," he said.
"It's definitely something that's going to take time, but God is able to handle things you can't and to answer your prayers."
Brophy tells struggling veterans that, whether or not they accept it, God isn't going to let them go.
"You've got Him whether you want Him or not because He's got you," he says.
Pointman is dedicated toward training men to take positions of leadership in their churches and communities.
Brophy adds another layer to that, challenging veterans to show how lessons from the military in teamwork, character and courage can also be a benefit in civilian life.
"When you serve, you have to learn how to overcome things and adapt to things and those are lessons that you really can't share with people who haven't been there," he said. "But you can apply everything you've learned to deal with whatever problems you are having."
Dig deep, he says, and don't be afraid to take an honest assessment of faults and weaknesses because that is the only way to begin true change.
"Hard times will teach you what you are made of," he said.
"You don't have to keep repeating bad behavior; with God's help you can work on those areas and become the man that He always meant for you to be."