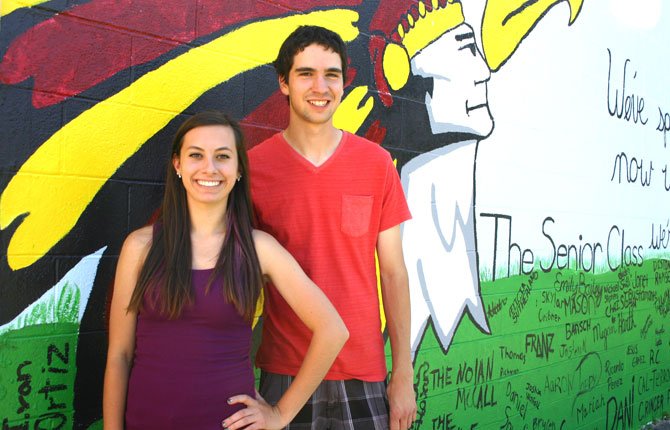 Students scrambled over metal chairs hot to the touch beneath the brilliant sunlight on June 5 as the class of 2014 went through a graduation practice run, for which the real deal is set to take place Saturday, June 7 at 11 a.m.
ASB President Cole McDowell, this year's valedictorian, said his graduation speech touches on the breadth of experience high school has to offer as well as the importance of celebrating how much he and his fellow graduates have accomplished over the past several years.
"It's about just how diverse high school is and how different people are," he said, shading his eyes from the sun. "We have so many different choices and opportunities ahead of us now — it's a really an exciting time."
McDowell, alongside Ford Foundation Scholarship winner Alleta Maier, were voted "most likely to graduate with a 4.0" in their senior yearbook.
Among his proudest high school achievements, he listed being on the winning Tuff Puff team two years in a row and having the chance to make an impact on the school through ASB.
"I didn't accomplish everything I set out to do, but I did get to do some of it," he said.
McDowell earned his 4.0 this year, and said he plans to jump on a plane and begin mission work in El Salvador later this month. After two years, he plans to attend Brigham Young University and begin studying for a degree in mechanical engineering.
"I've been involved in robotics for years, so I think it's a good place to start and I'll just see where it takes me from there," he said.
Salutatorian Carsen Cordell said she particularly enjoyed participating in extracurricular activities throughout her high school experience.
"I just really liked being involved," she said. "All the skiing and equestrian stuff I did was really fun and I think helped build a lot of character because it challenged me to really stay on top of my grades as well as express myself through sports."
With a 3.98 GPA, Cordell managed her responsibilities well and had the opportunity to sample a host of creative course offerings that helped her further explore her interests, she said.
"I found out I really liked designing things and being creative," she said of one of the graphic design-oriented classes she took. Cordell said she now plans to attend Oregon State University in the fall to pursue a degree in marketing.
"Things are always changing. From year to year we've seen so many different things change and evolve — schedule switches, old teachers leaving and new ones arriving, voting on the new mascot... So now it feels like we've managed to get through all of the craziness leading up to graduation and realize we really managed to get a whole lot out of the entire experience."
Both McDowell and Cordell will give speeches in front of their fellow graduates at the official ceremony Saturday on Amotan field.