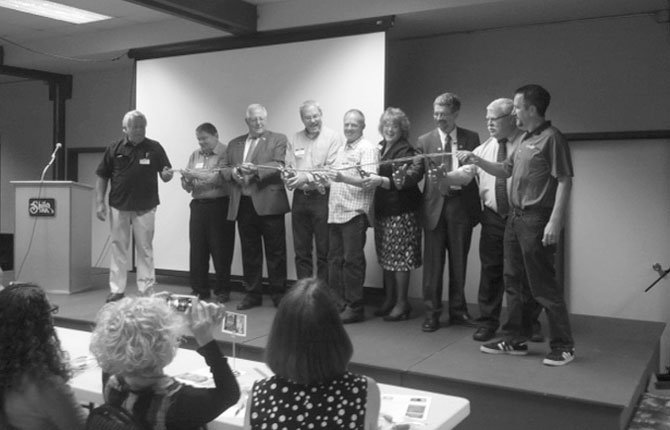 Seven new wi-fi hot spots and improved coverage in downtown The Dalles are the result of a system expansion completed in a partnership between Google, Q-Life and Gorge Networks.
"I want to celebrate the latest expansion of The Dalles public wi-fi system," said Mayor Steve Lawrence at The Dalles Area Chamber of Commerce power breakfast, where the expansion was announced. "It's great to see people using the free wi-fi and enjoying our historic downtown. Delivering wi-fi provides a great boost to the dozens of businesses downtown and their patrons."
This third expansion of the network brings service to The Dalles Civic Auditorium, ball fields, Kelly Viewpoint and the west end of Sixth Street. Service has also been installed along Brewery Grade, which benefits The Dalles Marina and Riverfront Park.
The project also improved earlier connections at Sorosis and other city parks, in the downtown area, the commercial district east of Webber Street, the Discovery Center, Kramer Field, One Health Center (formerly La Clinica del Carino) and Columbia Basin Care Center.
Scott Hege, president of the Q-Life board of directors, noted that in addition to the Google funding of over $266,000, Q-Life has contributed nearly $100,000 for public wi-fi.
"Over 80 access points now provide outside wi-fi connectivity throughout downtown The Dalles and surrounding areas. This is a great example of a partnership to support community and economic development goals," Hege said.
The project is an extension of the partnership between Google, Q-Life and Gorge Networks to provide city residents, business leaders and visitors with free public wi-fi and improve opportunities for the city, said Dave Karlson, Google operations manager for The Dalles.
"Google is proud to provide free wi-fi in the city we have called home for over seven years," Karlson said. "Each day, access to the Internet becomes more and more important to finding a good job, and accessing services or information, and this wireless network provides that resource."