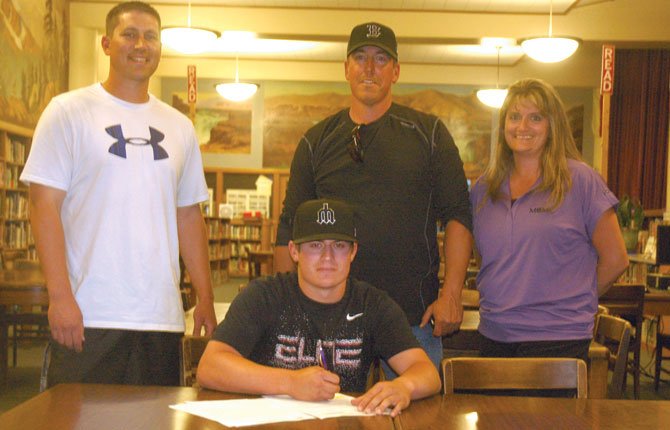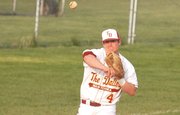 Since his days as a toddler, swinging an over-sized red bat at wiffle balls thrown his way by his father Jeff, The Dalles High School graduate Nolan McCall has wanted to play baseball collegiately and professionally.
No matter the venue, the team or the level, McCall has enjoyed a tremendous amount of success over the years with a case full of trophies and awards highlighting his body of work.
Now, he is on to the next phase of his life – college baseball and an opportunity to test his wares against a higher level of competition.
McCall received a scholarship and will play baseball next spring at Mount Hood Community College for head coach Bryan Donohue and the Saints.
Academically, McCall expressed interest in the medical field or contracting, but will emphasize general studies early on.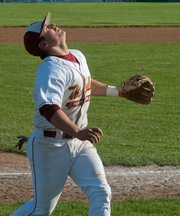 "I am both excited and nervous about this, but mostly excited," McCall said. "I have always loved baseball since I was young and I love the game. I have always worked hard and tried my best. Now I get the chance to play in college, so it is an honor."
Through the years, playing in Little League, all-stars, Sluggers, middle and high school, Nolan McCall's game has evolved.
In these last four years at TD, he has become a fixture at third base while providing middle-of-the-order power at the plate.
He has emerged as an all-league standout and been recognized as all-state athlete, first earning such high praise as a sophomore.
"Nolan has been one of the staples to our program for the last four years and it is exciting to see his progress and the success that he has had," said skipper J.R. Runyon. "The time and commitment he has put in is paying off with his chance to play at the next level. I look forward to seeing his future success and his continued development. He will do very well there. I am excited to see what he does."
In his finale campaign, McCall, the 2013 CRC co-Player of the Year, had a team-high .472 average with 27 runs and a team-leading 41 RBIs. In 107 plate appearances, McCall just struck out nine times, a team-best amongst the regulars and boasted a slugging percentage of .667.
While manning the hot corner at third base, McCall committed five errors in 38 chances.
After securing an honorable mention slot on the all-state list in 2012, McCall followed that breakout season with a team-high nine home runs and 42 RBIs with a .407 batting average and parlayed those numbers into a spot on the first team, all-state squad and was in line for voting as the state's Player of the Year.
He was a co-Player of the Year and a first-team recipient for his play in Columbia River Conference action.
The right-hander scored 24 runs and had a team-high 37 hits, seven walks, and an on-base average of .451 and a slugging percentage of .802.
Since his freshman year, McCall has been a figurehead for a successful Eagle Indian baseball program, which amassed a 48-31 record (61 percent), in the past three campaigns.
In 2013, the Tribe secured a Columbia River Conference title and coach Runyon was named Coach of the Year.
With the winning formula already in his bloodlines, Nolan McCall joins a Mount Hood program that has won 16 regional championships and notched two Northwest Athletic Association of Community Colleges crowns in the past 22 years.
Last Spring, Mt. Hood finished at the top of the Southern Region for a record-breaking eighth time in the last nine seasons, and finished with a record of 31-14.
The yearly expectations are raised, so his father knows, the work will escalate.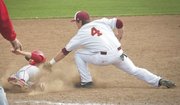 Over the years, Nolan has surrounded himself with esteemed coaches, who have instilled a high work ethic in him.
"He is going to have to go to practice and listen to his coaches," Jeff McCall said. "Between me, Rick Wilson, Steve Sugg, Ed Sawyer and J.R. Runyon, Nolan has had people who have done it before and over again, and tried to get him ready for this point. Once he gets down there, he has to go to practice every day like he doesn't have a spot. He has to earn it. If he can trust himself and not give up, he will be fine."
The younger McCall is quick to acknowledge that any of his past accomplishments are due to having trust in his teammates.
He has dressed down with Austin Wilson, Clay Copper, Zachary Keimig, Steven Bartells, Zach Cantrell and Clayton Ringer and chalked up several wins and hoisted trophies.
In college, Nolan will line up with former teammates Sam Anthony and Justin Sugg, along with a few others from Hermiston and Pendleton that he competed against for several seasons.
"I think it will be fun playing with those guys," Nolan said. "I appreciate all of my teammates. They have been a big part in who I am today. I appreciate them for that."
Jeff McCall advised Nolan to hit the field every day with some extra fire, coach Runyon said the work level will be raise substantially against a higher level of skilled athlete.
Nolan McCall is hopeful that his offensive prowess can continue in college with wood bats.
He is just thankful for the opportunity.
"I know it is not going to be easy," Nolan said. "I am prepared to be dedicated to working harder and giving it everything I have. I need to be disciplined and focused every day. Nothing is going to be given to me."
Jeff and Cheri McCall have had previous experience with one of their children making the move from high school to college with daughter Nikki, so being prepared mentally for the next phase has been an easier transition emotionally.
All of the road trips, long practice hours, quality time, championships, tears of joy and sorrow, have been an essential part of the whole process.
Jeff would not give any of it back.
"It is pretty tough, but I put things in perspective," Jeff said. "This has been a long process, but he has put a lot of work into getting this. It has been an awesome ride. All of these years have been rewarding for me and my family. I wish it could go on forever, but the kids grow older and move to greater things in life. I know I will always hold those moments close to my heart."