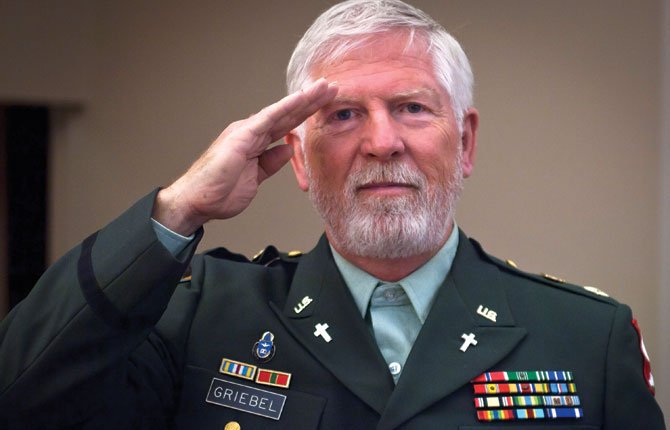 Del Griebel always felt guilty that his high draft number meant he didn't go to Vietnam, where several of his friends died.
He went on to become a pastor, and in 1989, when he had an opportunity to serve as a reserve Army chaplain, he signed on the dotted line.
Then, 2004-05 found him in Iraq, attached to a combat infantry unit from the Arkansas National Guard during one of the deadliest years of the war for US troops.
This spring, he took an early retirement — though he's 65 — as pastor at the Seventh-Day Adventist Church in The Dalles, finally acknowledging that he just couldn't do his job anymore because of physical and psychological injuries from his tour.
He speaks with unusual candor about his war experiences and the fallout from them.
He was hit by a roadside bomb, which caused some hearing loss and traumatic brain injury, resulting in cognitive issues like confusion.
But, more significantly, he suffers from "a pretty high level" of post-traumatic stress disorder "from the constant fear and being in danger and seeing death and disaster firsthand."
On March 24, 2004, his 16th day in Iraq, he saw four men killed and 29 injured by a rocket. "I was right there with them and you're scared from then on and you pick up body parts and try to help people, and after a while, you say, 'I'm messed up too.'"
Ever since then, he said, he reacts to "every slamming door and every loud noise and every — I hate Fourth of July."
He continued, "I deal with sleep issues, in the middle of the night I'll jump up and be fighting battles. I don't lose it in the daytime around people very much, but have enough so people notice. You can't do that as a pastor. But it's primarily on a personal level that I felt like I was living a lie a little bit."
When he says he would "lose it," that means he'd start crying, "or sometimes if I have a panic attack or just [am] overcome with fear I just had to go somewhere quiet and lay on the floor in the dark, which is kind of weird, but that's what I did."
Griebel finally decided to seek help for his PTSD late last year, and spent nine weeks in a VA hospital in Roseburg.
"I've just been suffering and just trying to survive and 'fake it 'til you make it' kind of thing and I just got to — I felt like I wasn't giving my church as much as they needed, or wasn't giving them as much as I should give," he said.
"It was a guilty kind of feeling. I was doing my best but I felt it was time for them to have a new pastor and a new start. And there was no hard feelings or anything. I just got so I couldn't continue."
He was released from the hospital in late January this year. "That's when I realized it's time to not try to go on; it was just time to take care of myself."
His last day of work was April 19. The church has not named an interim pastor yet, and its elders are overseeing church operations, Griebel said.
Griebel was at the church for five years, having moved here in early 2009 from Bend.
He's had a varied career, which included working as a high school teacher in Washington for five years, then becoming a pastor for 35 years. He served as a reserve Army chaplain for 20 of those years.
"So I'm a combat veteran as well as a civilian pastor veteran and a teacher veteran and I'm whacked for it all," he said. He reiterated, to eliminate any confusion: "Whacked, mentally deranged."
Griebel was raised Catholic, and attended "a little of everything" before becoming a Seventh-Day Adventist when he attended a Seventh-Day Adventist high school in Auburn, Wash.
Like other ministers, Griebel felt called by God to serve a religious life.
"I'll tell you about the first time I felt it," he said. He was at a youth congress in Portland. "They said, 'Is anybody here called to the ministry?' and I was sitting in the top row of the Coliseum in Portland. I was sitting with my girlfriend way up high so I could smooch a little bit, and I felt this calling so I went from the top row of the coliseum to the front stage and I said, 'Here is I, send me,' which is a quote from Isaiah, and that girlfriend and I ended up marrying and I was married to her for 41 years and she died of cancer."
She died just before Griebel came to The Dalles.
"The first year was pretty rough. I was single and crazy and mourning and grieving. Miserable," he said. Then he met a woman who lived in Pendleton who was "a perfect pastor's wife and her name is Terrie Leen." She's now his wife.
His retirement calendar is pretty full. He's already helped out at both his daughter's and son's homes.
"My wife has a mission trip scheduled for us in July. We're still doing ministry, just not getting paid for it. That's what retirement is, you know — life without a paycheck."
During his nine-week hospital stay in Roseburg, he took three classes on cognitive processing therapy, prolonged exposure therapy and cognitive behavioral therapy.
He learned that "if you view life through the eyes of a traumatized person you don't think clearly. And if you don't rethink it … you're traumatized by firecrackers."
He learned "it wasn't your fault if other people died. [You learn] to forgive yourself if you made mistakes, which everybody did. There was a lot of chaos."
He did a tour in Bosnia also, but it was nothing like Iraq.
"I never felt in danger in Bosnia, where in Iraq I felt in danger every day. I call it the year of fear. Somebody's getting killed, somebody's getting hurt, when's your number coming up? That's kind of how you felt."
In Iraq, death was everywhere. Griebel comforted the dying — his unit had 34 killed and over 300 wounded — and worked hard to keep soldiers from killing themselves. He's proud that not a single person from his unit completed a suicide — a rarity — and feels he had something to do with that.
But when he came home, he himself was suicidal.
"You just feel worthless and you feel bad. And nobody understands. It's a difficult thing."
At Roseburg, one class in particular was helpful. Called "prolonged exposure," it's a therapy that was also featured on Memorial Day weekend on the TV news show "60 Minutes."
In "prolonged exposure," the veteran makes a recording of himself telling his traumatic story.
"Your assignment is to go listen to that recording over and over and over again, and for me I realized, 'This is boring. I'm sick of this controlling me.' It was therapeutic in that you got sick of it and you get sick of your own self whining about it.
"The theory is every time you talk about it, it takes away some of the pain," and he "absolutely" believes that's true.
Griebel came home with PTSD, but also had his strong faith, which he believes helped him avoid the pitfalls of coping with his PTSD through drugs and alcohol, a circumstance he saw with many of his fellow veterans in Roseburg.
His faith is also a source of hope for him.
"I believe in God, and even though sometimes, if I'm in a mess or someone else is in a mess, I have hope that someday it's going to be better. There's research that people who have faith do better than people who don't."
"I'm grateful to be alive, I'm grateful for sunshine. I'm grateful for the VA. I'm grateful for The Chronicle," he said. "There's a lot to be grateful for when bad things are happening, just finding something to be grateful for, that has helped me a lot too."
And, finally, he feels his unusual candor is also in his favor.
"I've always been an open book. I think that has helped me too, because the guys that bottle it up are the ones that cracked."
And, in another thing to be grateful for, Griebel said his tour in Iraq helped lift his guilt over not serving in Vietnam.
"I am now proud to have served," he said. "Even though it hurt me, I am still grateful that I had the opportunity to serve my country."