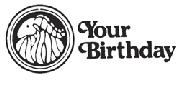 Wednesday, June 11, 2014
by Bernice Bede Osol
Your professional dealings will suffer if you allow your personal life to interfere with your productivity. Deal with both equally, but do not mix business with pleasure. The key is to maintain a balance in your life if you want to be successful this year.
GEMINI (May 21-June 20) — This is not the day to make promises. You'll be confused regarding what's expected of you and what's not. Get clear instructions before starting a new project.
CANCER (June 21-July 22) — An indirect proposal will prove to be very intriguing. Follow your instincts, and get the particulars from someone who is knowledgeable in a field that interests you.
LEO (July 23-Aug. 22) — Make sure that the attention you give to a new acquaintance doesn't cause a problem with a friend or loved one. An innocent gesture will lead to an unsettling disagreement.
VIRGO (Aug. 23-Sept. 22) — Trouble is brewing behind the scenes. If you are at all doubtful regarding a person's intentions, refuse to get involved. A snap judgment could cause trouble and be costly.

LIBRA (Sept. 23-Oct. 23) — Join an organization that appreciates what you have to offer. A partnership will develop from a mutual desire to get involved in a worthy cause or take on a new project.
SCORPIO (Oct. 24-Nov. 22) — Don't fall for someone's sob story. You will end up in a worse predicament if you hand your hard-earned cash to a schemer. Offer advice, not money.
SAGITTARIUS (Nov. 23-Dec. 21) — Make sure your feelings are reciprocated before making any romantic announcements. It's likely that your love interest isn't ready to settle down. Get to know each other better before you make any rash utterances.
CAPRICORN (Dec. 22-Jan. 19) — Do your best to conceal your plans. Someone is likely to take credit for your ideas if you are too open. Listen and observe, and you will discover ulterior motives.
AQUARIUS (Jan. 20-Feb. 19) — Join forces with someone who can help you achieve your goals. Having a partner will cut your workload in half. You will make substantial progress working as a team.
PISCES (Feb. 20-March 20) — Speak up, or someone will expect you to be a follower. Make it known that you intend to forge your own path. Your original approach will draw the attention of someone influential.
ARIES (March 21-April 19) — You are well-equipped to handle anything that comes your way. Communication and travel will figure prominently in your schedule. Spend your time wisely and make the most of your day.
TAURUS (April 20-May 20) — Now is the time to invest, not spend. Sound economic advice will enable you to add to your finances. Put quality over quantity and avoid lavish expenditures.