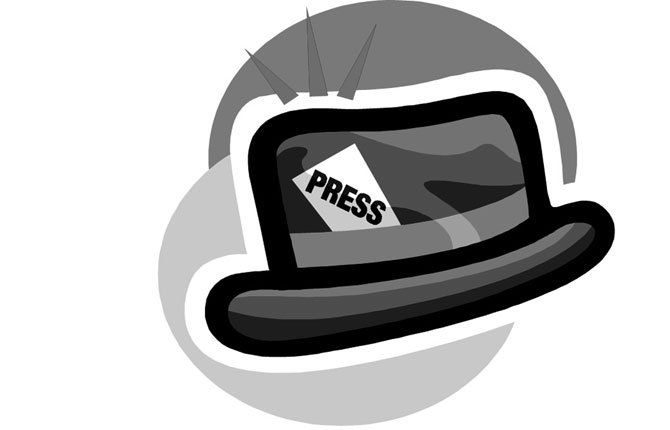 The Society for Professional Journalists runs a lively Linkedin group about the issues that affect the news industry today.
With the advances in technology and changes in the public arena, this is a transformative time in the history of journalism. Even defining what a journalist is in this day and age can be a challenge.
So a recent topic for one discussion group was whether journalists should be licensed.
"The public generally doesn't see much difference between a journalist, blogger and other writers," the thread began. "Just because you cook doesn't make you a chef; just because you write doesn't make you a journalist. Should there be some license or mechanism for journalists?"
A portion of the group was in favor of some form of credentials, either a license or a certification. A group at least equal in number felt licensure or certification would, at the most, interfere with the freedom of the press promised in the First Amendment of the U.S. Constitution.
At the least, it could compromise a publication's ability to report independently.
The reality of today's journalism world is that technology has effectively given everyone access to a "printing press," virtual though it may be.
Weeding through the many, many posts of self-declared journalists to identify sources that provide fair, balanced and well-sourced information requires more effort than most people want to go to. The fact remains that to many of the people who call themselves journalists today don't adhere to a set of journalistic ethics, like the one the Society of Professional Journalists recommends to its members, posted online at www.spj.org/ethicscode.asp.
These ethics are based on the important principle that "public enlightenment is the forerunner of justice and the foundation of democracy. The duty of the journalist is to further those ends by seeking truth and providing a fair and comprehensive account of events and issues."
This means:
• striving at all times for accuracy,
• supporting the open exchange of views — even those they find repugnant,
• avoiding imposing personal values on others,
• avoiding stereotypes,
• giving voice to the voiceless,
• ensuring the public's business is conducted in the public,
• distinguishing between advocacy and news reporting,
• minimize harm by treating sources, subjects and colleagues as human beings deserving of respect,
• act independently and without obligation to any interest other than the public's right to know,
• be accountable to their audience and to each other.
This is a short list of key elements a reader should expect from journalists.
Many journalists have already pursued a credential in the form of a journalism, communications or other preparatory degree, but that isn't a guarantee that the bearer subscribes to the tenets of journalistic ethics.
So readers who want to seek out fair and balanced journalism need to evaluate as they go.
Here are a few questions to think about when evaluating a news source:
• Does the writer and the writer's organization have a reputation for credible and fair reporting?
• Does the writer or organization have any political affiliation; e.g., does it write on behalf of certain people?
• Do writers make an effort to represent differing views through multiple sources within a story?
The bottom line is that true journalists, whether they have credentials or not, obligate themselves to serve as the public's eyes and ears when you can't be there.
When organizations give the press special access it is because they recognize that fact.