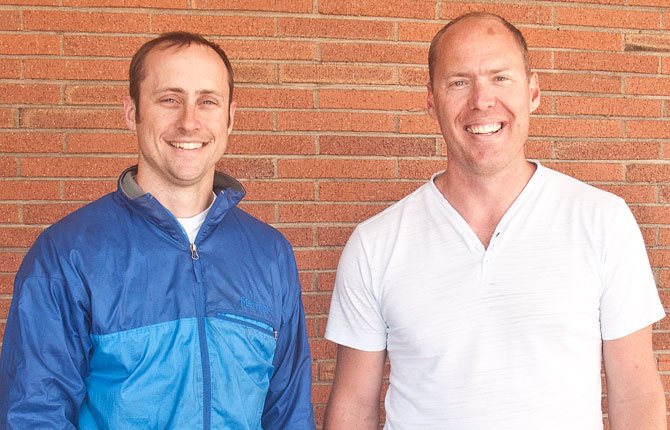 When Mike Dietrich grew up in The Dalles there were no local opportunities to earn a pilot's license, but he wants to see that change for the current generation of young people who may be interested in careers in aviation.
"Myself, as a high school student, I got my license when I was 17 in Hood River," he said. "There was no instruction in The Dalles."
Dietrich had been flying since he was 10 years old with family and friends. He went on to a distinguished 15-year career as a pilot in the Air Force, flying F16 fighter jets in Iraq, serving as the U.S. Ambassador to Turkey's pilot, and spending most of his time serving as an Air Force flight instructor.
Now Dietrich is making the transition from military to civilian life after being released from the Air Force three weeks ago. He has started working as a flight instructor with Brett Zefting of Gorge Aviation Services. The business, launched in 2010, provides services at the Columbia Gorge Regional Airport in Dallesport, including flight instruction, fuel, concierge services and airframe and power plant mechanics.
Dietrich and Zefting are inviting young people to find out more from them about careers in aviation, both through civilian and military career tracks.
"I'm putting myself out to be a communications hub for any student or person who would like to pursue a career in aviation," Dietrich said.
He offers to talk to people about pilot tracks through the ROTC (Reserve Officer Training Corps), military academies and officer training school. Dietrich entered the military through the ROTC at the University of Portland, earning a full college scholarship in the process.
Through his military career he has also developed a large group of contacts in the military aviation arena, both in full-size aircraft and in unmanned aerial vehicles (UAVs). About half of pilots today end up flying UAVs, Dietrich noted.
"If this is your interest, you can use me as a conduit to promote that interest," he said.
On the civilian side of the industry, Zefting flew for Insitu for a number of years then worked in flight instruction with another business before taking over at Gorge Aviation Services. Zefting holds certified flight instructor, certified flight instructor-instruments and multi-engine instructor credentials.
"I'm well-versed in sending kids on various career paths," Zefting said.
He said the military path offers more opportunities and is more affordable, but civilian opportunities are available. However, they have become more costly in the wake of a 2009 commercial plane crash near Buffalo, N.Y., he noted.
"Congress pushed through a lot of changes to airline pilot training requirements," he said. "You need a lot more experience to be a commercial pilot."
The demand for pilots is on the rise with the economic recovery and an impending retirement wave among commercial pilots.
In February of this year, CNN reported the need for as many as 500,000 new pilots worldwide and a prediction that Asia's air fleet will triple over the next 20 years. Also, the demand for air travel has risen 35 percent. Ground crew members are also in short supply.
Dietrich and Zefting can also help evaluate whether students have the capabilities needed in aviation
"In the first few hours we can see, does this kid really have the train of thought and situational awareness that is needed to get trained on a rapid basis," Dietrich said.
For more information about opportunities in aviation, contact Zefting at Gorge Aviation Services,