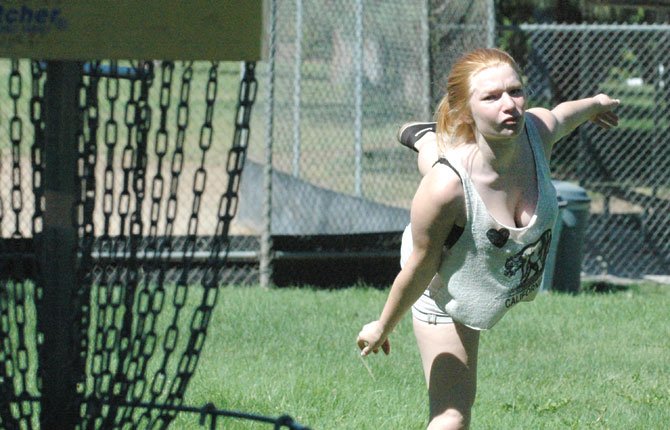 With school out for the summer, many children from across the Columbia River Gorge area will need new activities to get involved with.
North Wasco County Parks and Recreation activities coordinator Daniel Kittelson has crunched the numbers and released a full slate of summer programs ranging from tennis, disc golf, archery and water fun day for children in the third-through-high school ages.
"We have a lot going on for the parks and recreation," Kittelson said. "We are always growing and we are always looking to do better things for the community. I see so many improvements. It is looking pretty good and I am excited about it."
In five sessions, the NWCPRD has Excellent Adventures on tap going from 9 a.m. to 5 p.m. every Thursday for boys and girls ages 8-17. Costs are at $25 per child and transportation is provided to Thompson Park.
The first adventure is the 06 Air Park on Thursday, June 12, and two weeks later, on June 26, there is the Ape Cave Lava Tubes.
On July 10, children can participate in the Ultrazone Laser Tag, and then the large group of local youths will take a trip to the Pendleton Water Park.
On the final Thursday, July 31, kids will take a trip to Skibowl to play in the outdoors.
In addition, Kittelson has called on disc golf instructor Andrew Hampton to help in the tutorial process of the ins and outs of the basic disc rules and regulations.
Costs are open at $15 at Sorosis Park and the one-hour sessions run from 2-3 p.m. for children 8-17 on Saturday, June 14 and June 21.
"Disc golf is a growing sport that provides great physical activity in a very relaxing setting," Kittelson said. "Kids will love learning the basics and getting to know their throwing skills as well as scorekeeping."
While Hampton heads the disc golf circuit, Jodi Rich leads the community youths for Tennis in the Parks in a pair of sessions.
The opening lessons kick off from Monday, June 16 to Thursday, June 19 at the Gerry Farmer Tennis Courts.
For children aged 7-10, the practices run from 8:30-9:30 a.m., and at 11 and up, those athletes hit the courts from 9:30 a.m. to 10:30 a.m.
Rich will head the second session from 8-9 a.m. from Monday, June 23 to Thursday, June 26.
Costs range from $30 per session and player.
"Kids will be playing tennis right away with the quick-start format," Kittelson said. "The coaches will go over a few basics, then start playing the game and scoring points with a teammate, rackets and balls provided."
Being out in the sun and warm weather is good for many activities, but Kittleson is offering some fun in the water as well.
On Thursday, June 19 from noon to 3 p.m., boys and girls from the ages of 7-17 will head out to Sorosis Park for a water fun day.
Part of the fun day events include, water balloon wars, squirt gun battles, water beds and sprinklers.
Kids are expected to bring their swimsuits and active shoes. Snacks will be provided.
"What a better way to spend those hot days than cooling off and having fun doing so," Kittleson added. "This refreshingly fun day camp is all about fun water ways to cool down."
With water in mind, Kittleson has adopted an activity involving surf bikes, kiteboards, SUPs and paddle boards at Riverfront Park at the Kayak Shack.
Parents and children will have an opportunity to make the trip starting from 10 a.m. to 6 p.m.
Running, swimming and water activities aside, the NWPRD will allow youths an opportunity to use their brains in Geocaching Expedition on Monday and Tuesday, June 23-25 from 9 a.m. to noon for kids aged 8-15.
On Wednesday, the times run from 9 a.m. to 4 p.m. and costs are slated for $35.
"There are secret treasures boxes hidden around the gorge and we are going to find them with the kids' help," Kittelson said. "Participants will learn to use a GPS to navigate and locate the hidden geocaches."
This camp includes a field trip to the Mount Hood Forest.
Both beginner and advanced archers will receive high-level instruction from experienced members of the Celilo Bowman team for a three-day Archery Camp from 9 a.m. to 1 p.m. on Monday, June 30 to Wednesday, July 2 at Thompson Park. Costs are $35 per person.
On the last day of the camp, participants will run through a tournament-style shoot with scores. Transportation to Celilo Bowman is provided.
At the start of his tenure a year ago, Kittleson laid out a five-year plan in making improvements to different areas of The Dalles, from Riverfront park, the skate park, Kramer Field and all around in an effort to beautify the community and expand athletic participation.
Kittelson grew up in The Dalles and he has been a fabric of the community, having been involved in the local adult softball league and other recreational activities over the years.
A graduate of Chemeketa Community College in Salem, Kittelson got the ball rolling last June.
Some of the improvements already made include planting trees on the west side of Riverfront Park, adding more shade at the skate park and installing a sand pit for volleyball play at Riverfront.
In an effort to beautify surroundings of the playing surfaces and walkways, the softball fields have been in top condition for athletes and their families while they participate in softball activities throughout the summer.
Kittelson wants to get the fields in top shape for future tournaments for use during the summer.
"It is a huge thing for us," Kittelson said of the softball project. "It is just going to make our softball program and league a whole lot better."
There are big things ahead for NWCPRD and Kittelson is excited to take on the new challenge.
"We are trying to improve a lot of things," Kittelson said. "I want to see it grow every year. For me, there is not much more than to give back to the community. It is important to me."
For more activities information, call 541-296-9533 or check out the website at www.nwprd.org.