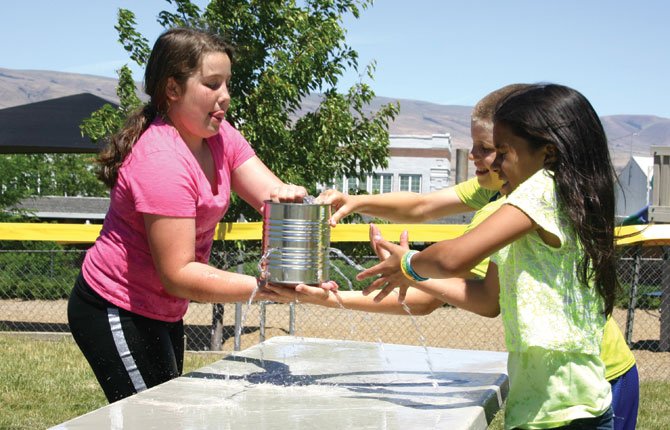 Hula hoops and chairs were scattered across the grass in strategic formations as a mix of fourth and fifth graders worked together to arrange their own obstacle courses for the annual water relay June 9 at Colonel Wright Elementary School.
One of their teachers, water relay organizer Steve Chance, said the event was meant "to end the year on a high note" and to celebrate his fifth grade students' completion of their elementary education before beginning at the middle school next fall.
"The kids really enjoy it," he said. "I feel bad for those who were absent today, because this is one of the funnest things we do all year."
The relay features three separate, identical courses aligned on the school's soccer field in which students work in teams to overcome obstacles while transporting a can designed to be very leaky all the way to the other side before depositing the remaining water into a plastic garbage can and running back to start again.
The team that manages to accumulate the most water in the shortest amount of time wins the day.
"And in between, there's just a lot of fun," Chance said. "For the entire year, I don't say a word about it until the day arrives and I get the kids on the field to set up. It's meant to be sort of a surprise, and every year it's a little different."
The warm temperature and brilliant sunlight served the event well as students sloshed the cans back and forth.
"It's funny, because at the start they're all holding them like this," Chance said, holding his arms out straight in front of him with a wary expression on his face as though he were holding an invisible bomb. "But when they really get into it, they're keeping it right up against their bellies trying to get as much water as possible to the finish line."
Within minutes most students were completely doused as spurting cans were handed off from one classmate to the next. The fastest runners were recruited
"It's definitely fantastic exercise," Janet Bustos, teacher of Colonel Wright's mixed class of fourth and fifth graders, said. "And what's really neat is that with the mixed class, quite a few fourth graders also get to participate."
For many fifth graders, she said, this was likely the second time they'd participated in the relay.
Younger students have the opportunity to see their upperclassmen celebrate moving on and, perhaps, the sight makes the prospect of transitioning to the middle school seem less scary and more exciting.
The event is made possible with the use of a fire hose loaned in good faith from the Mid-Columbia Fire Department and operated by Colonel Wright English as a Second Language Assistant and summer volunteer firefighter Erick Castañeda.
About an hour after the relay began, students cheered when it was announced that Team No. 1 had emerged victorious, immediately abandoning their cans to jump up and down, high five each other and even place the now-empty garbage cans over their heads in their enthusiasm.
When students Hannah, Caley and Elli from Bustos' class were asked how they felt about the event, a chorus of voices all answered at the same time: "We all got soaked!" "It was the most fun day ever!" "I loved it and I want to do it again!"
"The energy really is contagious," Chance said. "This is something we've been doing for over a decade, and we hope to be able to continue. It's a great way for the kids to celebrate all they've accomplished and give the fifth graders an awesome send off before their last day at the school."