The only way to make sense out of change is to plunge into it, move with it, and join the dance.
— Alan Watts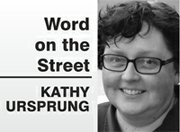 Heading west: A permanent fixture at 509 E. Second St. for more than 35 years, David Kelsey is taking his services as an auto mechanic to the west side of town.
Kelsey worked at the East Second location through a variety of name changes from S&R Auto to Castle, to Alleyway and now Cornstone Auto.
He has now decided to move to Cascade Motors at 317 Snipes St. West.
He looks forward to welcoming clientele to his new location and can be reached by phone at 541-296-1131.
How about exporting? A brown bag workshop on how to Expand Sales by Exporting Globally, offers practical ideas on the subject Wednesday, June 18, from noon to 1 p.m., at Gorge Innoventure, 1000 E. Port Marina Drive, Suite 101, in Hood River.
The presenter will be Scott See of J. Hammock & Associates.
The workshop will offer ideas for how to prepare for exporting products and how to find prospective importers.
America is the land of "not sweating the small stuff." That's not the case in other parts of the world. To succeed internationally, a company needs to have all the answers at its fingertips. Organizers say this workshop will review all the questions you never thought possible.
Learn how to fall in the 1 percent of American companies that are prepared to open new markets overseas.
Find details online at http://bit.ly/1u5FlqD.
Calling on the busy: As the old adage goes, "If you want something done, ask a busy person."
Some of the busy folks in The Dalles have taken on an extra workload/labor of love this year in planning the Fort Dalles Fourth Independence Day celebration, coming up in a little over three weeks.
But they can only do so much and are asking for other busy folks to help share the load.
There are plenty of volunteer opportunities to go around. Just a couple include:
• 7 a.m., greet runners and help direct them on the "Rocket Run," sponsored by Polehn Farms;
• 10 a.m.-2 p.m., assist with parade organization the day of the event, and help organize parade entrants.
Contact the Fort Dalles Fourth Committee to volunteer at 541-980-1055, fortdallesfourth@gmail.com.
A little toast with lunch? What to find out what The Dalles Toastmasters are up to these days? They're meeting Thursday, June 12, from noon to 1 p.m., at the Columbia Gorge Community College board room.
To learn more, call Patti Blagg, 541-298-4352.
Marketplace at the Mint: Local vendors are bringing locally grown food and handmade crafts to the Marketplace at the Mint starting Thursday, June 12, from 4 to 7 p.m.
Find fresh veggies and fruits, plus gift items at The Mint Building, 710 E. Second St., The Dalles.
Is your business changing, growing, moving or doing something special? Toot your horn in Word on the Street. Call Kathy Ursprung at 541-506-4601 or email her at kursprung@thedalleschronicle.com. Or feel free to drop off a paper announced at the office, 315 Federal St.