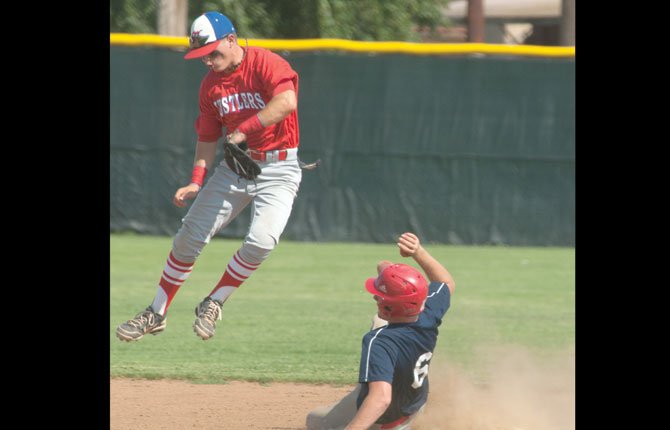 Chemistry helped the 2013 version of the Columbia Gorge 'AAA' Hustlers step in the right direction.
The American Legion baseball team notched a state tournament win over Medford and had a winning percentage of better than .700.
Gone from that bunch are four fiery standouts, but all-state recipients Nolan McCall and Steven Bartells along with all-leaguers Clay Copper, Zachary Keimig and Bryson Caldwell are in the fold ready to create some summer magic.
Hitting instructor and assistant coach Doug Sawyer said last year's group was at a crossroads at one point, but it all came together down the stretch.
That continuity led to wins and a better feeling in the locker room.
"We could have taken a left turn or a right turn. We chose to take a right turn," Sawyer said in an earlier interview. "This is further proof that the players are not panicking when we get behind, we are basically getting stronger. We are gaining more confidence in our ability to come back and that is where it's at. No question, it is team chemistry."
One element the summer brings is different players from different locations.
Reggie Sargeant is a returning player from Goldendale, Wash., Caldwell is part of the successful Dufur baseball team and Hood River Valley's Connor Olsen is a right-handed hurler, who is new to the mix.
Copper likes the makeup of this group as a whole.
"I have played with these guys since I was younger and we are just bulldogs now," said the catcher. "We just grew up to be tough kids who love baseball and good things are going to happen."
Coming back for another season of legion ball is Blue Mountain Community College pitcher and outfielder Dakota Walker.
Austin Wilson, Clayton Ringer, Payton Eaton, Colton Walker, Colin Noonan, Connor Olsen and Kellen Mathisen will also get some valuable innings on the diamond.
While there is plenty of power and speed offensively, the staff has some ability to carry this group far.
The Walker brothers make up two thoroughbreds on the bump and they are supported by Sargeant, Bartells, Caldwell, Olsen and Eaton.
Copper, Eaton and Mathisen will call the pitches behind the dish, with Copper logging the majority of the frames.
In the middle of the order, fans can look for McCall, Wilson, Copper, Caldwell, Eaton and Noonan to fill roles of getting on base and knocking runners in.
"We are solid one through nine, which helps a lot," McCall said in an earlier interview. "If the top of the order is not coming through, we can always look for the bottom of the order to step it up with key hits at key times. That is what we need from this lineup."
Last season, the Hustlers chalked up a berth in the Oregon 'AAA' American Legion State Tournament at Harry and David Field in Medford and won their opening game 3-0 over the host team.
That run came to an end with losses to the Dirtbags and Northwest Star.
On the schedule, the Hustlers face some talented teams such as East Portland, Salem Withnell, Westview, Barlow and Prosser, Wash.
At 5 p.m. Friday, the Hustlers start their 2014 campaign with a home date versus Northwest Star.
On Fourth of July weekend, the Hustlers play at least three games at the four-day Lakeridge Firecracker Tournament.
Super Regionals take place from July 25-27, the state tournament is scheduled to run from July 30-Aug. 3 in Grants Pass and regionals take place on Aug. 7-11 in Eugene.
Bartells goes into the summer session with optimism, but says the play in June will be just as important as games in July and August.
"From the very start, everything has to be clicking," Bartells said. "Baseball is about capitalizing on key chances, hitting, pitching and defense. That is what it is all about. I think we have the players here who can give us those."