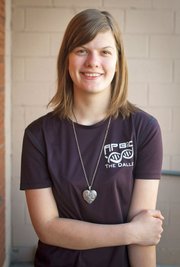 Already toting a backpack with a scowling red and purple Linfield College wildcat emblazoned across the front, after winning a prestigious Ford Foundation scholarship, Alleta Maier said she's ready to "move on" with her life and pursue her passion for the sciences and sexual assault prevention in McMinnville.
The 2014 The Dalles Area Chamber of Commerce Youth of the Year, Maier has remained active in her work with HAVEN and Girl, Inc., a program she described as one which "throws science camps for girls to subvert male-female involvement paradigm in STEM-related fields."
"It's all about trying to address the huge gender gap in those fields," she said, "And I already know that no matter what I end up doing, I want to volunteer for organizations like HAVEN for the rest of my life.
After taking "nothing but AP" classes her senior year and still earning a 3.98 GPA, Maier said she applied for the Ford Scholars program on a whim and only really learned of the program's significance after one of her teachers enthusiastically congratulated her on landing an interview, exclaiming, "This is a really big deal!"
And while it is indeed a "very big deal," Maier said she's not one to shout her success from the rooftops.
"I mean, I really don't mind who knows about it," she said. "But I knew my grandmother would be really disappointed if I'd been offered an interview at the paper and didn't take it," she laughed, "so that's why I'm here.
"And it is a really big deal," she said seriously, "I know that. I also know it's made all the difference to me and my family in terms of finances, so I'm also just really, really grateful… And excited—always excited! I can't wait to get to Linfield and get started."
What the competitive, need-based Ford Foundation scholarship does, Maier said, is take the entire cost of her education over the span of four years and subtracts all of the other scholarships and financial aid she's received in addition to her expected family contribution (which must be under $6,000 in order to qualify), and then covers 90 percent of the remaining cost.
This amount, Maier said, equates to about $10,000 in additional aid a year, which she expects will leave her with as little as $4,000 in debt at the end of her four years.
Linfield College itself costs upwards of $49,000 a year without any financial aid, Maier said, so it makes the scholarship just that much more valuable to her.
"What it means is that I'm going to be able to sustain myself and my life and get into a career I'm happy about," she said. "It's going to be a dream come true to work in my chosen field and contribute to and possibly even help that field progress; being able to do that and not be super in debt after all is said and done is incredibly cool."
Of the 5000 students who applied for the scholars program, 180 of those received interviews and 100 of those were awarded scholarships like Maier's, she said.
"My family is definitely really proud," she said smiling. "My mom and I both cried so hard at baccalaureate when the speaker talked about graduation being the first step towards the rest of our dreams and the funny thing is I knew him from my work at Haven, which just made his speech that much more personal. It just made it my entire experience feel really full-circle, you know?"
Maier said she intends to pursue degree options in physics, applied physics, or possibly even engineering, but maintains that no matter what, she plans on earning herself a double major in mathematics.
The scholarship, which is renewable for four years, can also be re-applied for a renewal to cover the cost of a graduate degree if the recipient maintains a 3.5 or better in his or her undergraduate education.
"I'm pretty enthusiastic when it comes to learning and am very actively involved in trying to get the best education possible, so I think I'll be able to pull it off," she said. "Linfield also has a sexual assault prevention program called C.A.T.S. that I really want to get involved in, so I definitely plan on keeping busy while I'm there."
While Maier said she's more than ready to move forward with her education, she confessed she is also "really sad to say goodbye to all the lovely people I've grown close to over the years," naming HAVEN as "probably one of the things I'll miss most in this town; it's been my main outlet for helping to change the world in a positive way, but I fully intend to find other HAVENs in the world and do what I can to help out."