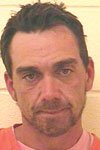 Police arrested a man early this morning in the suspected arson fire of a motor home in The Dalles.
Christopher Michael Knight, 36, is being held at the regional jail on charges of first-degree arson and burglary.
Bail is set at $300,000.
The Dalles police officers had been in the area on an unrelated case and were the first to respond, said Police Capt. Ed Goodman.
"They spotted the smoke and started to respond to where the smoke was coming from when the fire tone-out went over the area," Goodman said. "They were right on top of the call. People at the scene identified the person who set the fire. The officers checked several locations the subject is known to frequent and found him hiding under the front porch of a house on Lillian Way."
Mid-Columbia Fire and Rescue responders were dispatched to the scene at 1121 W. Second St., at 12:25 a.m. on the report of the motor home fire.
"They initially reported that a 6-year-old was inside the RV and when we got there the RV was fully involved," said Lt. Joel Brown. "At that point, were trying to protect the other buildings from catching fire. When we got a moment to regroup and actually account for everybody, it was determined that all the kids were accounted for."
The house had been the scene of a fire about a year ago, Brown said.
Goodman said there was a known previous relationship between a woman who lives at the fire scene and the suspect.