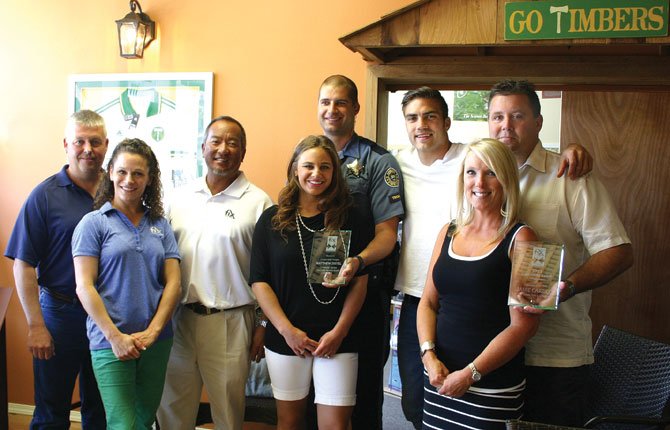 Two local law enforcement officers who were shot in the line of duty in 2013 received community awards Thursday in a celebration with a soccer twist at the Cottage Cafe.
The awards were given to Det. Jamie Carrico of The Dalles Police and Trooper Matt Zistel of the Oregon State Police by Fix Auto owners Kathleen and Sky Schacht of The Dalles and Schon Kim of Gresham.
"Thank you to each of you two," said Kathleen Schacht, handing out the community service awards. "We know you do your job each and every day to serve and protect, but what you two went through was above and beyond."
Since Carrico is a soccer fan and Portland Timbers memorabilia hang around the café owned by his wife, Dee Dee, Fix Auto reached out to the Timbers and brought Goalkeeper Andrew Weber to The Dalles to meet the two officers and sign shirts and scarves with the team logo on them.
"We really appreciate you both," said Sky Schacht. "You don't get enough recognition for what you do."
"We appreciate your service to the community," Kim said. "This award is something we have talked about for the past several years to recognize people within the community who go beyond the call of duty. It's great to be able to start a new tradition in The Dalles with you two."
"I can't thank you guys enough," Carrico said, promising to get Zistel to a Timbers game.
Zistel was shot Aug. 29, 2013, in an exchange of gunfire after pulling a car over for a speeding violation in Sherman County. Portland resident John Van Allen, 34, was killed in the exchange. He was traveling with his three adolescent children, but had exited his vehicle to fire at the trooper.
Carrico was shot Oct. 16 while investigating a suspect in Wishram over the rape of a minor in conjunction with Klickitat County sheriff's deputies. When suspect Adrian Suarez fled the scene, Carrico gave chase. The subject shot and wounded Carrico, who returned fire, striking and killing Suarez.