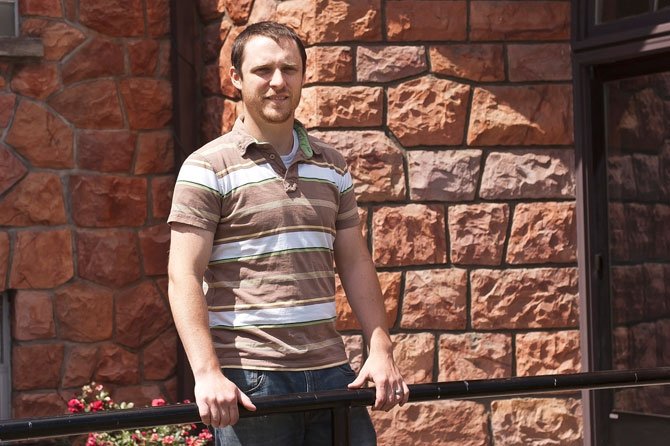 Before he was even a teen himself — when he was just in sixth grade — Caleb Morris felt called by God to minister to teens.
Now 25, Morris has been named the new generational pastor at First Christian Church in The Dalles. He replaces Mark Hammer, who moved to Idaho.
For Morris, the ministry is something of a family business. His father is senior pastor at the First Christian Church in his small hometown of Gooding, Idaho, and his brother is in school in Arizona, with plans of doing a sports ministry.
Generational pastor is a title for ministers who work with more than middle school and high school kids. Morris also works with grade schoolers, overseeing the nursery and ensuring it has everything it needs, from supplies to teachers.
Morris said, as a sixth grader, "I got to see what my youth minister was doing with my friends in youth group and I saw I wanted to do that someday because I wanted to help out teenagers, and they're so huge and important in our culture" and sometimes people can write them off because of their youth and lack of maturity.
He thinks it's important for kids "to see a really good role model and to know that somebody thinks you're important because they seem to struggle with that identity crisis so much. 'Does anybody care about me?' We love our kids, but there can always be those times where the kids know you love them but they might not hear it enough and they might take that personally. [I just] let them know, that's not the case, your parents do care about you. They make mistakes, we all make mistakes, we're human. And it's remembering that and not trying to put people on this pedestal. And when we do, there's always a letdown because the only perfect person was Jesus."
Perhaps because he was so recently a teen himself, Morris is able to give teens "a little bit of grace… You used to know all the answers in the universe, too."
His focus is "let them know that they are important. I think a lot of times, as adults we get frustrated with kids sometimes just for being a kid. We want them to be more mature because we've kind of forgotten a little bit what it means to be a kid."
"Yes, there are times we need to have that maturity and step up and we're old enough now to do that, but there are times when you still have to be a kid and be the immature six, seventh grader that you are, whatever grade it is."
Morris was homeschooled from fifth grade through high school, although he did join the high school band to play the drums. He went to Boise Bible College and graduated with a degree in youth ministry.
His first ministry position was in Vale, Ore., where he stayed for four years before it became clear "that God had called my ministry to a close there and he wanted something else."
That was last September, and he worked for a few weeks for UPS, then worked bussing tables in Sun Valley — he saw singer/actor Jack Black "that was pretty fun," and some actress from TV show "Gray's Anatomy" whose name he didn't know — then he spent a month as a stock delivery person for a beverage company before getting called to The Dalles.
He's a snowboarder, but he hit the slopes just one time in Sun Valley. It was a bad snow year so they used fake snow, which isn't good to ski or snowboard on.
"I'd be cruising along and I'd catch some fake snow and I'd flip. And I was like, 'I'm done. It's been awhile but I'm not this bad.'"
He skied, but gave it up after a bad incident when he was 10. He and buddies usually traversed a black diamond run to take a trail, but the trail was snowplowed off, so they were forced to go down an icy black diamond run — the most difficult type of run. He ended up going down it head first on his chest and nearly hit a tree at the bottom. As Morris was himself recovering from his crazy descent, another girl broke a foot at the bottom, and a guy "came flying through and he ended up breaking his jaw. I was like, 'I'm done skiing.'"
The mountain was soon closed because of the dangerous conditions.
His work as generational minister is full-time, but in reality, it's a 24/7 job because he might get calls in the middle of the night from kids who are frustrated or sad about something.
Kids are always welcome to come to his house and hang out with him, his wife Katie and their 19-month-old son, Ben. He's also up for a round of disc golf.
While his messages to kids at youth group nights are topical, he said none of the kids in his group even mentioned the Reynolds High School shooting this week.
"It's a sad fact but I don't think it's bugging kids as much anymore because it's such a common occurrence."
His work duties also include planning outings away from church. And it is work to do those outings.
"Some people think vacation time for a youth minister is when he goes to camp for three weeks straight. That's not vacation time."
He doesn't have plans, at this point anyway, of moving into adult ministry.
Right now I hope to be the really old youth guy who still relates to the teenagers somehow and still reaches them and loves them."
He recounted reading about an 80-year-old youth minister with a thriving ministry of several hundred kids. "That's what I wanna be," he said.