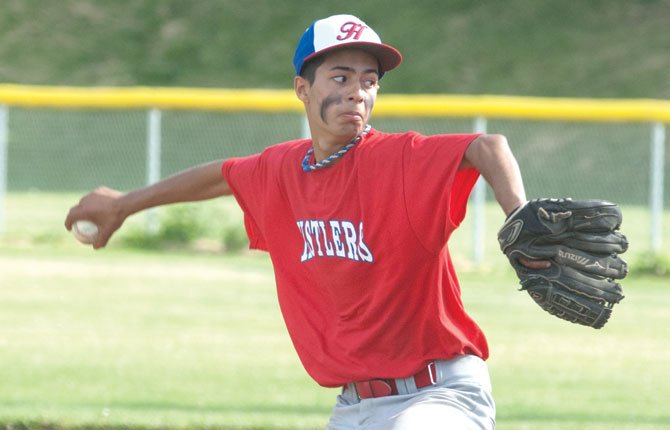 There are several reasons to believe that the Fort Dalles 'A' Hustlers can be a team that does some great work in the summer American Legion baseball season.
This team has an all-league catcher in Wyatt Stutzman, out of Sherman, and a few live arms from the mound that could help the team lower the runs to a minimum for head coach Matt Eby.
Leading this illustrious group is right-handed pitcher and infielder, Kristian Lucas.
The 5-foot-10 inch soon-to-be senior from The Dalles is flanked by a pair of reliable arms in Sage Bierwirth and Tanner Piekkola.
Dylan DesRochers (6-1) brings versatility to the mix with pitching, first base and outfield as his main strengths.
Coming off an eye injury that plagued his spring baseball season, DesRochers is looking to get back on track with this determined bunch.
"It feels good to get back on the field this summer," DesRochers said. "Our coaching staff have been working really hard with us in developing our skills and giving us all opportunities to play. This year should be really fun."
Added to those arms is a younger group of pitchers, Eby can call on incoming sophomore standouts John Miller, Tyler Westin, Dawson Hoffman and Goldendale, Wash.'s Justin Sargeant to shoulder some of the load.
Ross Kohl, Matt Strizich, Cash Mathewson, Taylor Chamberlin, Preston Klindt and Eli Holeman will fill roles through the summer session.
Kohl, DesRochers, Strizich, Mathewson and Holeman are going to be penciled in to make plays in the outfield when called upon.
"I'm really excited to be playing for the Single 'A' Hustlers team, we have a great bunch of guys and we should be really competitive this year," said DesRochers.
If the defense and pitching are on cue, the team will need a consistent effort from the batting order to put up runs in bunches.
Stutzman, Strizich, Piekkola, DesRochers and Lucas figure to bring the power to the lineup, with the rest of the players using speed and timely hitting to move into scoring position.
"From top-to-bottom we have a talented lineup," said Brandon Strizich. "We have guys on top who have a lot of speed, so if we can get those guys on base, we expect our 3-4-5 hitters to bring them in. We have some great power on this team and we have a lot of contact hitters, a lot of guys who can go opposite field. It's real exciting. We can definitely put up a lot of runs."
Through three games thus far, the Hustlers bounced back from losses Sunday to Pendleton by scores of 12-7 and 12-6 with a with a dominant 12-6 victory over Goldendale, Wash. on Wednesday in The Dalles.
Although inexperienced in the legion game, coach Strizich and the coaching staff is looking to maximize the potential of the players.
If they can be a part of that, then those athletes could be varsity player in the near future.
"This is summer ball and we are out there to work hard," coach Strizich said. "We are also making sure that those incoming seniors are being leaders and setting a good example for the younger kids."
Up next, the Hustlers host Goldendale again for a nine-inning game at 5:30 p.m.