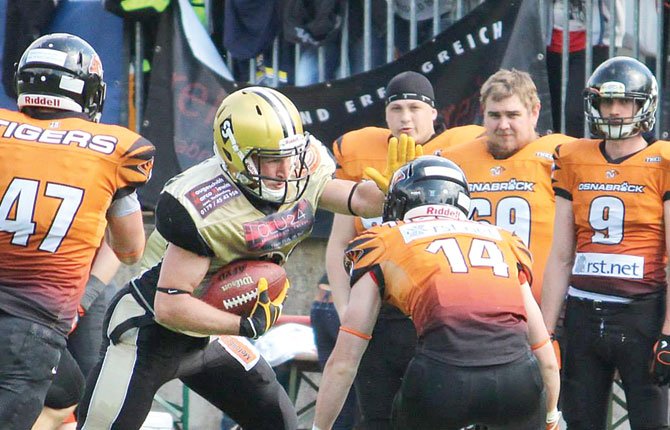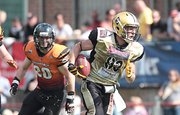 One thing Ryan Johnston never lacked was an extreme passion for football.
He ate it, drank it and talked it as often as he could.
The Dalles Wahtonka graduate played at an all-league caliber in high school and made tremendous strides to his game while on the gridiron at Willamette University.
Once he crossed the stage for graduation earlier this year, Johnston could not stop thinking about the game and the joy it brought him.
He loves the sport and cannot stop playing.
An opportunity to continue his career presented itself and Johnston ran with it — more than 5,100 miles away to Germany.
For the past month, Johnston has taken his talents to Europe where he is a player/coach for the Division III Lübeck Seals, of the German Football League.
The leagues are similar to soccer clubs, where athletes participate in five or six different classifications.
The Seals are a Division III team and GFL I is the highest level.
"After my senior season I decided I wasn't done playing and one of my coaches, Lukkes Giligan, from Willamette, played in Finland, so I knew there were places to play," Johnston said.
With some inspiration from Giligan and a recommendation to the Lübeck coach from former Willamette head coach Tim Speckman, who is now an offensive coordinator for the Hamburg Huskies, Johnston got the ball rolling with a phone call and film exchange, which ultimately led to a contract offer.
Johnston has been on German soil for a little more than a month and has played in four football games so far.
Faced with the knowledge that their son was about to make a trip halfway around the world, Johnston's parents, Rich and Gwen, were on board from the get-go.
"I told him that if he had the opportunity, to take it, because there is no time like the present," Gwen said. "He is young, and there is nothing holding him down, so he should go for it. We were all very excited for him. This is not an opportunity many kids have."
Ryan makes a point to maintain regular communication through Skype and other methods, two-to-three times a week, with his family and friends on his visits to a local café.
Rich, Gwen and sister Angela already have plans to make the trip to Europe later this summer.
In terms of lifestyle, Gwen said Ryan has acclimated quite well in his new surroundings.
He speaks some German, so he can communicate with the townspeople and on off days, teammates have shown him the sights and sounds of Lübeck and some surrounding cities.
Being away from mom's cooking is a struggle, but Ryan can hold his own in the kitchen with a German staple — potatoes and bratwurst.
"Perks-wise, my room and board is all taken care of, and I also have a car provided by the team," Ryan said. "I get to coach our under-19 team, which has been fun and has reinforced my love for coaching, learning new ways to coach and teach the game."
Much like his high school and collegiate career, Johnston plays multiple positions for the Seals, as a slot receiver on offense and a cornerback on defense, as well as kick and punt returner.
He is one of 20 players on a small squad, so being in peak physical condition is a priority.
There have been a few adjustments made on the field.
Since tackle football is not the primary sport in Germany, some of the in-depth tactical knowledge and savvy remains a work in progress for the players.
The officials are still in a learning phase just the same.
"It has been a great experience so far," Ryan said. "I love playing ball and my team is great. But football here is different, so that has been something I have had to adjust to as well. We only practice twice a week and have a walkthrough (before game day). For me, all I have to do is focus on ball, so lots of training and working out."
When he is not strapped down in full uniform, Ryan brings zest and zeal to the coaching ranks, as both a receivers and defensive backs coach.
From his days learning under Lynn Helyer, Bob Townsend, Dan Telles and scores of others through the years, Ryan has been able to soak in all of the intricacies of teaching for success.
"I think positive coaching is the best route in any aspect of the game and coaching here has made me realize how hard coaching can be – not just with the language barrier, but being patient and really teaching what you want," Ryan said.
From the first time he saw Ryan on the field to the final snap four years later, Helyer had a feeling his former player had that certain "it"} factor that could galvanize a team and organization to a higher level.
"He is 100 percent team-oriented and displays more passion when he plays than anyone I have ever been around," Helyer said. "Ryan is an extremely gifted athlete. Along with being a gifted athlete, he is one heck of a scholar. He put education first and that has paid off for him bigtime. I am proud of him for having the drive and desire to accomplish all that he has in the classroom and on the field."
With a bachelor's degree in art history in his back pocket, Ryan has not really looked too far ahead in terms of his grand plans.
He still has goals to teach and coach, either at the collegiate or high school level.
There is a bright future in Germany, however, so he will stay abroad for another year or so, then maybe come back home to complete master's courses at either Western Oregon or George Fox University.
"All in all I am blessed to still be playing the game," Ryan said. "I am truly blessed and I owe all of my success to my coaches from The Dalles and Willamette and to my family, especially my parents, and my friends."