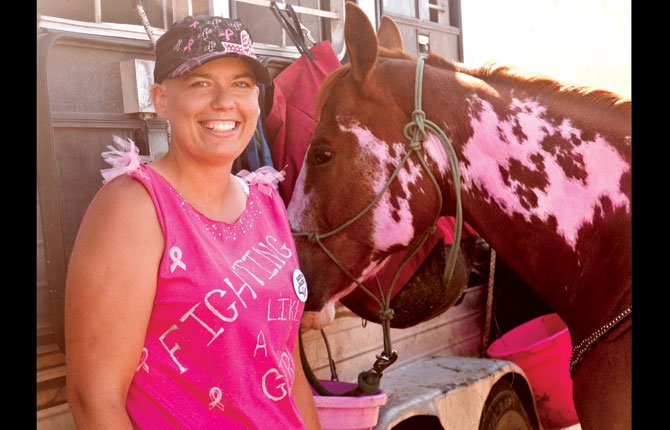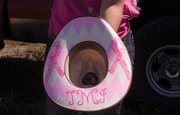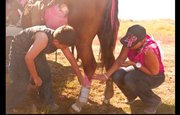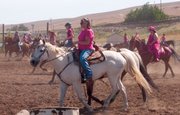 The crowd is quiet as T.J. Miles lines up for her sprint into the arena.
Under her, her spirited paint Apache rears and prances before Miles nudges him into a surge of speed.
In the scant seconds it takes for Apache to reach the first barrel, Miles' diagnosis is the farthest thing from her mind.

Miles was diagnosed with breast cancer earlier this year, but she hasn't let that stop her from enjoying the sport she loves. Instead, her horses and barrel racing are the therapy that helps her cope with her illness.
"A couple of people before I go, the adrenaline kicks in," Miles said about lining up to compete. "I forget I'm sick. I forget everything. I concentrate on my horse and on being the one out there. I concentrate on what I want to do."
Miles, 30, grew up around Goldendale. She got her first horse around the age of 12. She started going to summer horse camps, participating in 4-H and competing in junior rodeos. In 2001, she was chosen the Klickitat County Fair and Rodeo Queen.
Miles has been a regular participant in barrel racing events around the region. Last year, she decided to step up her game and took Apache to a trainer
"I went from not placing in 4-D to winning 2-D and placing in 1-D," Miles said; 1-D is the most competitive barrel racing division. "The last two years I've gotten really serious."
Miles started having issues with one of her breasts around the beginning of December.
"At first I thought it was a tight bra," she said. "My breast hurt and it itched."
Miles and her husband, Nick, thought she might be pregnant (she wasn't) so she went to the doctor.
"I told him my boobs were sore," she said. "He blew me off. A couple of months later, I went back and they found a mass."
At only 30 years old and without cancer in her family history, Miles couldn't believe she had breast cancer, but she did.
"Get checked," she said. "I didn't think I was 30 years old and needed a mammogram."
Now she's getting treatment at the Celilo Cancer Center. She underwent her first chemotherapy treatment a few weeks ago and will continue to have them every three weeks.
"The doctor said I have a 60-year-old person's cancer," she said.
After her chemotherapy, she'll need a double mastectomy and to have both ovaries removed, she said. Apparently the cancer is a variety that spreads.
Amidst the upheaval of her cancer diagnosis, barrel racing and working with her horses is one of the things that helps Miles maintain some normality in life.
"They're my therapy," Miles said. "Even if I don't feel good, they make me feel better. They're so comforting. I can talk to them, tell them any problems I have, how I feel and they listen. I can tell them anything and they don't talk back."
Barrel racing with Apache allows her to focus on something other than herself, not only in the arena, but throughout the entire day. She makes sure everything is Apache's way leading up to the race. Her barrel racing partner is particular, she said.
"He likes to have another horse around," she explained. "He doesn't like to be alone, so I brought a friend's horse. When he's waiting in line, he likes to stand next to another horse. It keeps him calm. I try to keep him as happy as possible."
On June 8, Miles had other duties where Apache was concerned: Making him pink.
The day was a special barrel race, Turning for Ta-Tas, just to benefit Miles and almost everyone at the Stage Stop Arena was dressed in pink — and so were many of their horses.
Apache was no exception. With a little help from Miles' son, Tyler, 8, she rubbed shocking pink hair mousse into Apache's white patches, then added some pink breast cancer awareness ribbon figures and glitter to his rump and tail. Her husband was also on hand to lend his support and help during the event.
Her friends, including Brandy Schanno and Lee Ann Olheiser, organized the event in a short month's time after learning of her illness.
The Stage Stop hosts smaller, weekday barrel races and Miles has been a regular attendee.
"She's my hero," said Schanno, who owns the Stage Stop Arena with husband, Ken. "She always has a smile on her face, even with what she's going through. If she had hair, you wouldn't even know something was going on."
"I just think I'm a really positive person," Miles said. "I've had people tell me they would be at home sitting on the couch in a ball, but I'm not going to let this control my life … It's not defining me."
Miles has relied on the support of family and friends to help see her through, including those in the barrel racing community.
Those friends stepped up to help make the June 8 race happen.
"To put on an event like this doesn't just happen," Schanno said. "There's a lot of preparation that goes into it. The ground in the arena has to be just right to hold that many barrel races on it. My husband worked really hard to make that happen."
Miles is also known in the community as an employee of The Baldwin Saloon, so not only did the barrel racing community step up, but so did members of the wider community, providing equipment and other help needed to put on the event and fill the auction.
"It just escalated," said Olheiser, who organized the benefit auction. "Usually, it's like pulling teeth to get donations. Every day I would get a text, 'How do I donate?' 'Where do I donate?' On my phone and Facebook I'd get messages, 'I want to help.' Everybody was just so willing."
Olheiser said Miles would help her if the roles were reversed.
"She's just one of those people," she said. "All you have to do is mention you might need help and she's there, or if some young girl needs something, she's giving it to her. She's always trying to make it better for someone else. That's why all us girls wanted to help her."
The Stage Stop hosts smaller barrel races weekdays and Miles has been a regular attendee.
The event was the largest the Stage Stop Arena had seen, Schanno said. Miles competes in two barrel racing associations, and members of both turned out, bringing the total competition to 144 riders for the day. The silent auction raised more than $5,000. Race receipts added to the total.
The goal of the big event was to see Miles continue barrel racing as much as she is able during her illness.
"It's important to us because barrel racing is a passion for a lot of us," Olheiser said. "We put a lot of time into it and we love our horses like kids. T.J. has worked really hard. We want her to have something she's passionate about to look forward to on a daily basis.
"I read somewhere that cancer is not only a physical, but a very emotional condition. If you have a positive outlook on things, that's 50 percent of the battle. I think she's got that part covered. She's got the most amazing attitude about it I've ever seen."