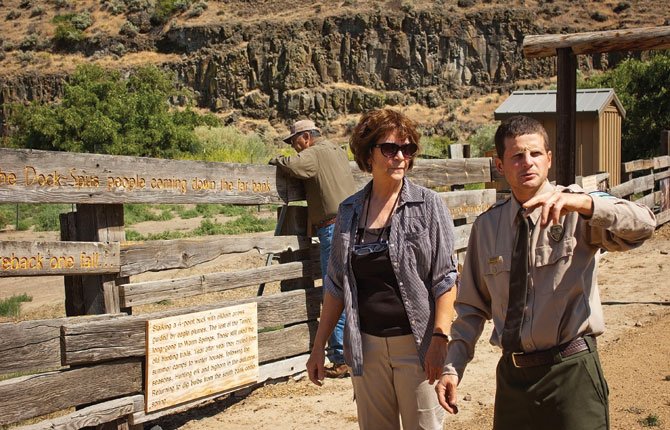 Visitors to Cottonwood Canyon State Park can learn about the history of early settlers by walking a storyboard fence line.
"We didn't want the standard kiosk, we wanted to figure out a way to use the natural elements," said Julia Hill, landscape designer for the Oregon Parks and Recreation Department.
The park, located about 15 miles southeast of Wasco, opened Sept. 25 and Hill said the goal of its development was to retain the cattle ranch feel of the place.
After several site visits, she and ranger David Spangler, among others, decided the fence line behind the historic barn was the perfect place for interpretive signage. Hill then enlisted the help of Patti Fields, executive director of the Sherman County Historical Museum, local geologist Ellen Morris Bishop and Portland author Andrew Haley to bring the project to fruition.
"Andrew used historical facts to craft the language for the storyboards and we also found little notes on the back of old photos that triggered ideas," said Hill.
She said the first try at the concept has been received so well by visitors that the idea is being expanded to include similar stops in unexpected places of Cottonwood.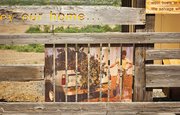 "The hope is that as you wander around the day use area, you will discover little haikus along the way that are built into the landscape," she said.
The fence line of aging boards, from the days when the sprawling 8,000 acre park was a ranch run by the Murtha family, provides a glimpse into Sherman County's past. A passerby is reminded about the deputy who drowned wading out in the river for a goose he had winged. Or a woman who died childless from a bad tin of salmon.
"Children born in the night. Cries echoing off cliff walls. No doctor for miles," reads one sign.
There is also a reminder of the Native American presence in the valley with a reference to the stealthy hunt for a four-point buck.
"It's really sort of an organic way to tell the story of the local area," said Spangler.
Cottonwood Canyon State Park, 99989 Highway 206, is the second-largest in Oregon and has wild and rugged terrain. Visitors are asked to keep an eye out for the occasional rattlesnake. There are 21 primitive camp sites and all are first-come first-serve.