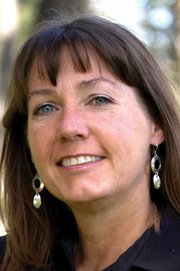 Hood River attorney Karen Ostrye has been appointed by Governor John Kitzhaber to fill a vacancy on the Circuit Court for the Seventh Judicial District created by the retirement of Judge Paul Crowley.
"It's an honor to have received this appointment from the governor and the support of my colleagues as well," she said after hearing the news.
Ostrye was selected from as pool of applicants and recommended as the top choice in a poll of area lawyers.
By early August, Ostrye will join circuit court judges Janet Stauffer, John Wolf and John Olson on the bench.
After Crowley leaves July 1, Olson will become the presiding judge for the district that serves Gilliam, Hood River, Sherman, Wasco and Wheeler counties.
In a June 12 press release announcing Ostrye's appointment, Kitzhaber said: "Karen Ostrye's broad experience in both civil and criminal law and her demonstrated commitment to the community make her the ideal person for this appointment. I have no doubt that she will contribute immensely to the court's work and serve the five-county judicial district with distinction."
Ostrye graduated from both Portland Community College and Portland State University before receiving her law degree from Lewis & Clark Law School. She has been in private practice her entire career, first as an associate and eventually as a partner at Jaques, Sharp, Sherrerd, FitzSimons & Ostrye.
With extensive litigation experience, including 20 years in the gorge, Ostrye has handled cases in areas such as family law, juvenile delinquency and dependency, and employment law.
She believes years of experience in the courtroom have prepared her to make a smooth transition into the role of judge.
"I think that I'll have a sense of each person's position and will be able to look at the case with a fair and neutral mind," she said.
Ostrye was also commended by Kitzhaber for community involvement that has included serving as a mentor with Big Brothers Big Sisters of the Columbia Gorge and on various boards, including the Hood River County School District, Court Appointed Special Advocates, and the Mid-Columbia County Bar Association.
Her volunteer work earned her recognition as mentor of the year in 2012 from Big Brothers Big Sisters of the Columbia Gorge.
Ostrye will receive some special training for her new job and plans to run for the position in the November general election.
Only one candidate has already filed for the position of circuit court judge in District 7's Hood River County. Hood River attorney Tim Farrell filed June 6. He earned his juris doctorate at Lewis and Clark Law School, worked at various law firms in Ohio, Oregon, Washington, Guam, the Commonwealth of the Northern Mariana Islands and Virginia until 2008. He became a sole practitioner in Oregon and Washington in 2008.