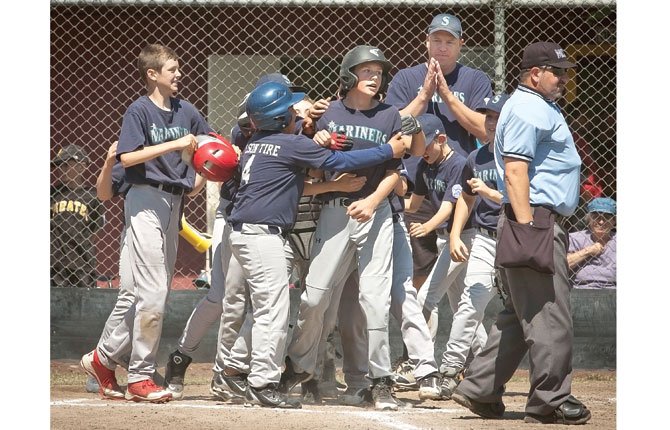 Zach Anderson broke open a 5-2 lead with a grand slam in the bottom of the fourth inning and ace southpaw Caden Mathisen tossed a complete-game gem to lead the Nelson Tires Mariners to a 9-2 victory over the Hampton Furniture Cubs in the championship game of The Dalles Little League Majors action Saturday at Kramer Field.
"I am so happy we were able to win. We played as a team," Anderson said. "We never stopped believing that we could do this. It means a lot."
With the Mariners in front by a 4-2 score in the fourth, Mac Cope and Jorge Gutierrez started the rally with consecutive walks.
One out later, Ben Nelson was plunked to load the bases to extend the lead to 5-2.
With bags still packed, Anderson worked a 2-2 count on the Cub pitcher. On the next pitch, Anderson hammered a fastball deep over the left field wall, 230-feet away for the slam to cap a five-run frame and make it 9-2.
Staked to the healthy cushion, Mathisen settled in and even helped his own cause with a stirring defensive play.
Cubs infielder Mac Abbas led off with a single to center and advanced to third on a stolen base and a wild pitch.
With one out, Mathisen faced Trenton Schacher.
Schacher rifled a hard liner up the middle and Mathisen made the stab and fired the ball to teammate Sam Thalhofer at third base to complete the double play to retire the side.
The Mariners went scoreless in the home half of the fifth frame and Mathisen had two runners on base in the sixth, but he recorded a strikeout and induced a game-ending popup.
"The Mariners are a very deep ball club, I will tell you right now," said Cubs coach Joe Abbas. "I knew we had our work cut out for us. We had some things where we just couldn't put it all together. We hit the ball hard, but right at people. We had double plays, losing runners, it just happened. That's baseball."
Whether it was the 14 walks received or the three hits put up, the Mariners were able to execute at all levels.
A leading example of such high output, Mathisen got some help from his mates in the top of the fourth after his offense scratched across two runs in the third to go ahead 4-2.
Caleb Nelson made a running catch in center field and Ben Nelson followed with a golden glove play at shortstop.
Kurtis Billette hit a hard drive in the hole and Ben Nelson hustled to make a backhanded stab, set his feet and threw a strike to Anderson at first base for the second out.
The next Cub batter, Josh Johnson, then hit a popup to Anderson at first for the last out.
Energized by those three plays, the mariners rallied for their five runs.
"If we don't get plays from our defense, I think it is a lot closer game," Mathisen said. "I could not have done anything without my team doing that for me."
Mathisen scattered three hits, one of those was an RBI ground-rule double by Mac Abbas, who later scored in the Cubs' two-run second inning to take a 2-0 lead.
The Mariner lefty struck out eight and did not walk a batter.
Anderson went 2 for 3 with a home run, four RBIs and two runs scored. Mathisen added a double, an RBI, a run and a walk in two official at-bats.
The duo of Caleb Nelson and Cope each worked three walks and scored a run.
From opening day until Saturday's climax, Mariners coach Dan Nelson felt his team had all of the elements in place to enjoy success.
They happened to come through with one of their best performances when it mattered most.
"It all actually came from the draft. From Day 1, we have had a great team," coach Nelson said. "They have had positive attitudes all the way around. I love these kids. I am extremely happy with how they did today. We stayed up and just never faltered. I am proud of them for that."
Marlins tally Minors triumph
In what was a seesaw affair between two teams that did not want to give up without a fight, the Papa Murphy's Pizza Marlins battled back from a 5-0 first-inning deficit and used a game-deciding throwing error to score the final two runs in the bottom of the sixth inning to secure a dramatic 9-8 triumph over the Hatts White Sox in the Minors Divisions title game of The Dalles Little League Saturday.
"This was a great baseball game. These two teams left it all on the field today," said Marlins coach J.R. Pullen. "This is what little league is all about. It was a nerve-wracking game, but I am thankful this group of boys had enough to pull it out."
After scoring five runs in the bottom of the fifth frame to take a 7-6 lead, the Marlins looked to be moving ahead to a big win.
However, the White Sox jumped off the deck with two runs on one hit, one walk, a hit batter and two errors to make it an 8-7 game.
Austin Agidius led off with a one-out walk and then stole two bases to move into scoring position with two down.
Elijah Roden reached on a throwing error and Agidius scored to even the score at 7-apiece.
Cesar Sanchez then doubled to left to put runners on second and third, before William Lee was hit by a pitch to load the bases.
Roden scored on an error to give the Sox an 8-7 advantage, but Marlin reliever Colin Mcloughlin wiggled out of a bases-loaded jam by striking out the No. 8 hitter.
"This was a great game to be a part of. Both teams battled," said White Sox coach Allen Beeks. "It is a shame that someone had to lose. It happens. This still does not take away what we did this year. We accomplished so much. Every one of these kids did everything they could to get us here."
That clutch pitching effort proved to be beneficial in the bottom of the sixth inning, as the Marlins started the frame with back-to-back singles by Jaxon Pullen and Steven Stanley.
With runners on second and third and still no outs, Brandon Pentz hit a dribbler in front of home plate.
Jaxon Pullen retreated back to third base, but Stanley kept running to third before hustling back to second, as the White Sox pitcher tried to run him down.
Instead of holding onto the ball, the White Sox reliever attempted a throw that sailed into right field, which allowed both Pullen and Stanley to cross home for the final two runs and a Marlins victory.
McLoughlin picked up the win for the Marlins, as he lasted three innings and allowed three runs, one earned. The righty gave up three hits, walked two, plunked two and struck out six.
"We kept fighting for the whole game," McLoughlin said. "We never gave up. When we were losing, we still knew we could win if we had hits. This is exciting to win."