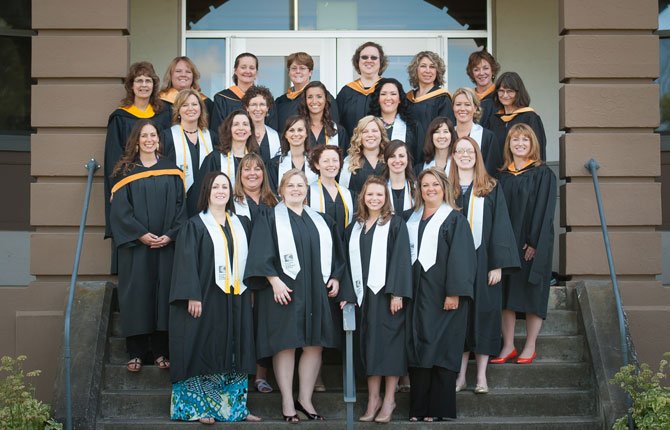 On June 12, 17 Columbia Gorge Community College nursing students transitioned into nursing graduates in front of their family, friends and instructors at the Ft. Dalles Readiness and Workforce Innovations Center.
The pinning ceremony is a time-honored nursing school tradition. It signifies the nurse graduate's official initiation into the brotherhood and sisterhood of nurses. Each nursing graduate picked loved ones to do the honor of attaching the pin.
The hour-long ceremony was followed by a reception to celebrate the graduates' bright future as new nurses.
The history of this "rite of passage" can be traced all the way back to the Crusades of the 12th century. The modern ceremony dates back to the 1860s, when Florence Nightingale was awarded the Red Cross of St. George in recognition for her tireless service to the injured during the Crimean War. To share the honor, she in turn presented a medal of excellence to her brightest graduates.
By 1916, the practice of pinning new graduates was standard throughout the U.S.
Columbia Gorge Community College (CGCC) offers a career ladder program for individuals who want to become licensed practical nurses or registered nurses. After successfully completing the required credits of the first year of the nursing program, they are awarded a certificate of completion. Completion of this level qualifies the certificate holder to apply to the Oregon State Board of Nursing to take the exam to become a licensed practical nurse (LPN).
An associate degree in nursing is earned after completion of the second year of coursework which qualifies you to apply to the Oregon State Board of Nursing to take the exam to become a registered nurse (RN).
http://www.cgcc.edu/nursing-health-occupations