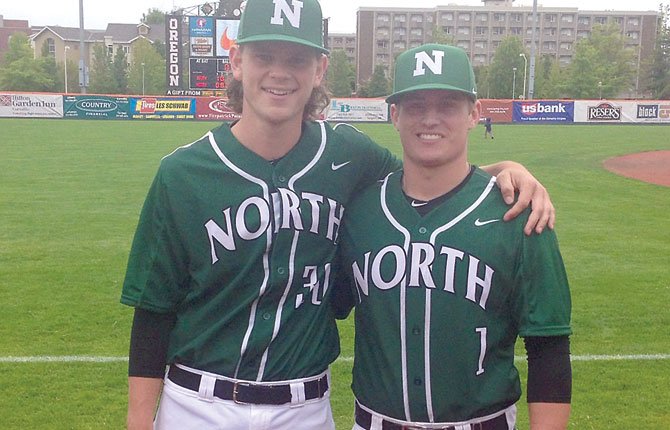 With a chance to hone their baseball skills for one last time as representatives of The Dalles High School, recent graduates Nolan McCall and Clay Copper took the field for the 57th annual Reser's Oregon State-Metro All-Star Series at Goss Stadium for two days of play against some of the best players across the 6A and 5A classifications Saturday and Sunday in Corvallis.
McCall and Copper were on the North squad that secured two wins out of the three contests by markers of 6-2 and 4-1 to win the series.
McCall, who played third base and designated hitter, went 2 for 6 with two singles, a walk, a sacrifice fly and four RBIs.
Copper, the North catcher, went 1 for 4 in the three games, doing the most damage in Game 2 with a double, an RBI and a run scored.
As a proud observer, their former high school coach and current American Legion skipper, J.R. Runyon was happy to see his top pupils on display in front of a capacity crowd.
"Nolan and Clay represented themselves and The Dalles High Baseball extremely well," said Runyon, a two-time Coach of the Year. "I was very proud of both of them. They were very fun to watch."
In the opening matchup, McCall dug in with the bases loaded twice, once in the first frame and another time in the third, delivering clutch two-run singles to left field on both occasions.
McCall nearly went yard in his next at-bat, but his hard shot hit off the top of the wall in left field just two-feet foul.
While on the field, McCall flashed his all-state leather with three sterling defensive plays.
The Mount Hood Community College signee made an over-the-shoulder running catch of a foul ball to end a big threat early in action.
Another time, a hot shot went off the North pitcher's foot and McCall charged in and made a bare-handed scoop and threw to gun down the runner on a close play at first base.
Later in the opening game, McCall made a full head of steam on a slow roller and fired a bullet to first for another out.
Copper had his opportunity to shine in Game 2, another North win, first coming through with an RBI double and a run scored.
From his catcher's position, Copper called a solid game for his ace pitcher and threw out a runner at first base on a third strike swinging.
The South team won the finale by a 6-3 margin, as McCall went hitless in two official at-bats, but added a sacrifice fly in the third inning, his first time to the plate.
Copper went behind the dish as a defensive replacement in the fifth frame and added a highlight-reel play.
After a two-out single, the throw came in late, but Copper popped up quickly and cut down the batter trying to advance to second base for the final out of the inning.
Both McCall and Copper will be in action once again for the Columbia Gorge 'AAA' Hustlers in a legion doubleheader matchup today against the Tri-County Outlaws.
After Wednesday's nine-inning game in Battle Ground, the Hustlers host Capital City Select for a twinbill at 4 p.m. on Monday, June 23 at Quinton Street Ballpark.