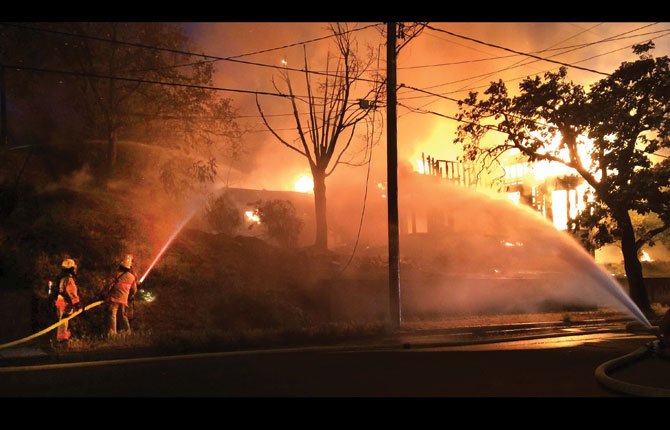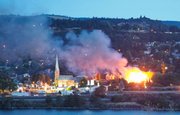 A vacant historic house in the 400 block of Fourth Street that caught fire in December 2011 burned again last night, Tuesday, June 17, and is "pretty much charred sticks" now, a neighbor said.
City police are treating the fire, which was reported at 9:18 p.m., as an arson, according to police logs. Officers took a case number for first-degree arson.
When the 148-year-old Pentland House burned in 2011, it was owned by restaurateur Romul Grivov.
But because the exterior was still largely intact, there were hopes of restoration and it was never torn down.
Fire crews were dispatched to the house after law enforcement arrived to find a small fire inside one of the rooms, according to a press release from Mid-Columbia Fire & Rescue.
Jenny Garner lives in the historic house just east of the Pentland house. She wasn't home at the time, but when a friend alerted her she raced home and saw the roofline ablaze.
"I thought it was my house, so that was pretty frightening."
"As I got closer, I realized it was Romul's house next door and it was just a huge ball of fire," Garner said.
Garner said the Pentland house was significant because "it was the first house in The Dalles to have running water."
The home is now owned by Henry Tran and Kathleen Troung, who also bought Romul's Restaurant from Grivov.
Garner lauded the work of fire crews who spent hours patrolling hot spots in her yard.
"I have to say, the fire department from both here and Dallesport were absolutely incredible. They were protecting property and they were really vigilant about getting in and hunting down hot spots.
"I was just very impressed with their work. It could've been a lot worse if they weren't as good as they were."
Garner heard rumors of people being seen running from the building when the fire started. She said, "there's a lot of transient traffic between our place and that house and there have been instances of people attempting to camp back in there and they've been rousted out and the city has come in and cut down the weeds and grass a couple different times this spring so that isn't quite as attractive, but I would say it's probably likely someone was climbing inside just because of the traffic that goes back and forth there."
Garner said a few spots of grass burned on her property and firefighers spent a lot of time dousing some railroad ties used as retaining walls in her yard.
The press release said strong winds carried embers that started spot fires in dry fuels, shrubbery and the roof of one structure downwind from the fire. Downed power lines hindered firefighting efforts until Northern Wasco County PUD arrived to abate the hazard, the press release stated. Resources from The Dalles Police Department and Wasco County Sheriff's Office handled fire control.
The alarm brought all Mid-Columbia Fire & Rescue and Dallesport Fire District resources to the scene. Wy'East Fire District, Dufur Fire Department, the Oregon Department of Forestry and Hood River Fire Department were called for mutual aid, each sending companies to the scene and providing units to cover the fire district.
Up to 30 firefighters responded to the incident, the press release stated. The fire was brought under control within two hours and all crews cleared the scene by 12:30 a.m.
The press release reminded residents that, as weather conditions get warmer and dryer, it is extremely important to keep dry grass trimmed to prevent fire from spreading. Ornamental shrubs and bushes should also be trimmed and cleaned underneath to prevent spread of fire into adjacent structures. Unnecessary storage and debris around structures should be eliminated to reduce fuel loading and prevent fire spread.