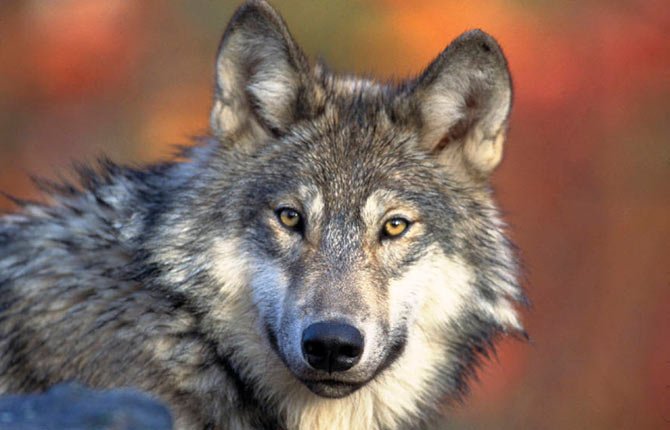 Ranchers and conservationists appointed to the Wasco County Wolf Compensation Committee have both expressed the need for "common sense" in decisions regarding livestock kills.
What that concept means to the four citizens appointed Wednesday by the county board remains to be seen, with each expressing strong viewpoints.
"This is going to be interesting," said Maupin rancher Keith Nantz, president of the North Central Livestock Association, which requested formation of the advisory group.
He and Dufur Gap Road rancher Mike Filbin, one of the largest cattlemen in Wasco County, are seated on the committee. Both men are intent on protecting the financial interests, and way of life, of area livestock owners from the effects of state and federal moves to increase the wolf population in Oregon.
"This state needs to allow more flexible management of wolves," said Nantz. "We are not against wolves but right now there's no middle ground and no balance. Wolves are propagating and doing whatever they want and we need to make sure that our ranchers are
compensated fairly for losses."
Filbin said there needs to be recognition when dealing with the issue of wolves that it goes against the rules of the range to "sit back and let a predator maul and kill a cow and her calf."
He said the loss of a $2,000 cow is multiplied several times when the number of potential calves that are lost with her death is also factored in.
"People have to understand this culture if this wolf plan is going to work at all. It's got to be changed to be more fair," he said.
Conservationist Debra Lutje, a licensed massage therapist in The Dalles, said wolves were in the Northwest before cattle arrived and, while she understands rancher concerns, that fact needs to guide decisions.

"It has to be horrifying to come across your livestock being mauled by a wild animal. But they were here first and we can't just kill everything because we want cheap steaks," she said.
Lutje does not want to start investigations into missing and dead livestock with the assumption that a wolf is responsible.
She said higher numbers will allow ranchers to demand changes to the "no-kill" rule that exists in the western part of the state, where U.S. Fish and Wildlife has jurisdiction over wolf-related matters.
"I do want ranchers to be compensated for a livestock kill but we don't want to fan the hysteria," she said.
On the eastern side of the state, wolves have been federally delisted as an endangered species and the growing population is under management of the Oregon Department of Fish and Wildlife.
Ranchers are allowed in that region to shoot a wolf caught in the actual act of wounding or killing a cow, horse, mule, donkey, llama, alpaca, goat, swine, bison, domesticated fowl or other fur-bearing animal bred and maintained commercially.
"Whatever happened to innocent until proven guilty?" Lutje asked. "I know there is a deep-seated culture in ranching and I totally get that but I'm not having it. They are going to have to prove the cow was killed by a wolf -- I'm not going to rubber stamp anything."
Sherlene Bowen, also on the committee, has a dog that resembles a wolf and said she wants to serve out of a deep love for the wild animals.
"I feel there's a place for wolves to live in this world, too, and if we can find a way to help wolves and ranchers then that would be very nice," she said.
Bowen resides in The Dalles and is the operations administrator for the Rattlesnake Road Wind Power Project in Arlington.
She likes the committee role of using grant funds from the Oregon Department of Agriculture on non-lethal wolf deterrence.

At least 30 percent of a grant must be used for that purpose and the county must contribute 10 percent to implement the program.
"The wolf is one of God's creatures and it needs its feeding grounds, too, so we've got to come up with a happy medium," said Bowen.
Nantz said it is important, when dealing with anything that impedes production of a major food source, that decisions be made on "good science and not emotions."
"Moving forward, this state needs to look at what is happening with the decimation of elk and deer herds in Idaho and Montana and make sound decisions that are based on fact," he said.
"Wolves are the alpha predator and domestic livestock in Eastern Oregon are also being attacked. We are not there yet but that day is going to come and we need to be ready."
U.S. Fish and Wildlife released about 70 wolves in the Northern Rockies in 1995 and about four years later a female wolf from Idaho was sighted near the middle fork of the John Day River, about 80 miles east of The Dalles.
The first animal known to cross the border was darted, caged and returned to her home state. Other wolves followed her lead and Oregon now reports nearly 70 wolves in eight established packs.
As of Oct. 10, 2013, ODFW reported that 80 livestock or domestic animals had been killed or injured by wolves since they took up residency.
The number of confirmed kills last year was 13, which is higher than eight confirmed in 2012 and about the same as kills in 2011.
Wasco County Commissioner Steve Kramer, who resides in Dufur, will head the compensation committee and said the rules about how it will operate are still being defined.
He said the group's task at the first meeting in July, on a date yet to be determined, will be to select the final two members of the committee, who must be representatives from the business community.
People interested in filling those roles will find an application on the home page of the county's website, www.co.wasco.or.us. Kramer said all names must be submitted by 5 p.m. Friday, July 18, to qualify for consideration.
He said three members of the committee will serve for two and one-half years and three for two years in order to ensure that historical knowledge is available to new members.
"We've got a lot of work to do and this is serious stuff so we really have to come together as a committee," said Kramer, who is already consulting with officials in eastern counties who are already experiencing wolf kills.
"I don't want to reinvent the wheel but we've got to take what they are doing and incorporate it in a way that will work in this part of the state," he said.
Although there are currently no known wolves in Wasco County, ranchers from eastern Oregon, as well as officials from U.S. Fish and Wildlife and the Oregon Department of Fish and Wildlife, say they are probably moving through the area and will one day make it home.
"I think it's probably pretty safe to say at some point they will be here," said Jeremy Thompson, ODFW biologist who works out of The Dalles office.
He is pleased about having a committee in place to help ranchers get ready for wolves, such as teaching them to remove bone piles that attract predators.
The committee must decide before compensation can be awarded that the rancher did not unreasonably or purposefully create circumstances that attract wolves, excluding accepted management practices.
While Thompson works with the committee on that agenda, Wasco County Chief Deputy Lane Magill and Deputies Chris McNeel and Scott Williams will train in the investigation of wolf kills later this month.
The sheriff's office will be the first point of contact for an unusual livestock death, or to report a missing animal, and these situations will be inspected like crime scenes, said Magill.
"It is going to be our responsibility to work with biologists from Fish and Wildlife and ODFW to make the call about whether or not a kill involved a wolf," he said.
Wallowa County Chief Deputy Fred Steen will be one of the presenters June 26 at the 2014 Oregon and Washington Cattlemen's Associations Mid-Year Conference and Trade Show at the Pendleton Convention Center.
Kramer will join the local law enforcement officials at the program that will provide education about wolf identifiers in livestock kills, such as bite marks, tracks around the scene and scat.