Sherman County ranchers Mark and Dee Lane are fighting to keep a cow alive that was attacked by wolves while grazing summer range near the town of Weston, about 134 miles east of The Dalles.
As a result of having a chunk torn out of her left haunch, the cow has contracted a bacterial infection that the Lanes are treating with antibiotics. They are also feeding her grains to give her as many nutrients as possible.
"If I can't get the infection down within the next week or so, then I'll probably have to put her down, I can't make her keep suffering," said Mark in a June 18 telephone interview.
The 3-year-old cow is pregnant and also has deep claw marks around the injury.
Oregon Fish and Wildlife officials, who manage the wolf population on the east side of the of the state, have confirmed that the attack came from the Umatilla Pack, which is one of the fastest growing in Oregon.
"The large size, high number and especially location of the bite wounds were consistent with many other confirmed wolf attacks in Oregon," stated the agency's follow-up report. "This is the first confirmed wolf depredation of a cow by this pack."
During the same week the Lanes' cow was attacked, the pack killed seven sheep about a mile from where their 22 pregnant cows were pastured. That attack occurred inside a fence with regularly spaced flags that is supposed to deter wolves.
Five sheep were also injured and one lamb is missing. ODFW acknowledged in its incident report that more sheep may succumb to injuries. Investigators found that five of the slain sheep showed no sign of consumption and one lamb was partially eaten.
Mark said his usually docile cow was so wild when his father-in-law spotted the injury June 11 she could not be caught until June 14.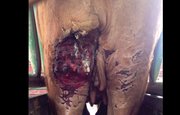 "It made me sick to see this injury," he said. "If people could see what happens when a cow is attacked they would understand our need to make sure the [wolf management] rules allow us to protect our herds."
His other cows are stressed out enough by the attack that they won't go to higher ground where green grass is still available so they are losing weight. He plans to bring them back to the home range next week but, since this is his first year in production, is he unsure what to do next.
Mark said if he cannot find another range to graze them on, he will have to either sell or start buying feed, which will be an extra production expense.
Under Oregon law governing management of wolves, a hunt can be permitted on the east side of the state if there are four separate confirmed attacks by the same pack within a six-month period. After six months, the process starts anew. The state has also set a 45-day limit to complete any hunt that does take place.
To date, four wolves have been killed by ODFW or authorized agents since 2009.
On the east side, a wolf caught in the act of biting, wounding or killing livestock can be killed. Proof is difficult because they hunt at night and are secretive, according to ranchers.
However, a no-kill order is in place on the western side of Oregon, including Wasco and Sherman counties, where wolves are still federally listed as an endangered species.
A hunt for a pack with repeat offenses is possible under federal management but likely to be challenged by environmental groups, according to Todd Nash, chair of the wolf committee for the Oregon Cattlemen's Association.
Keith Nantz, head of the North Central Livestock Association, traveled to the Lanes' ranch to inspect the wound of the injured cow at the request of Nash.
"Mark and Dee are just getting started and this is a huge economic hit," said Nantz. "It's not about depredation and 'cheap steaks,' it's about a declining food supply when there will be 9 billion people in the world by 2050. It's about finding balance and there isn't any balance right now."
He was joined by Wasco County Chief Deputy Lane Magill and Sherman County Sheriff Brad Lowry, who are both receiving training next week to conduct possible wolf kill investigations. Jeremy Thompson, biologist for ODFW who works out of The Dalles office, was also present.
"I went for my own professional edification," said Magill. "I wanted to get photos of this incident to start building our file about what a wolf attack looks like."