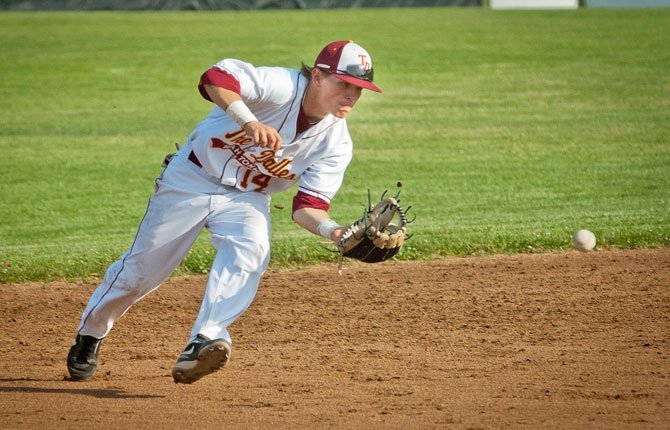 Longtime The Dalles baseball player Steven Bartells will head downriver this fall for a slot on the Concordia University team.
"It's a good Christian college with a good program and a good coaching staff," Bartells said. "I thought it was the right fit."
Concordia finished the 2014 season with a 29-20 overall record and earned the No. 2 seed in the NAIA West Tournament after going 16-12 in league play. The Cavs advanced to the NAIA West Championship game where they were defeated 4-1 by the seeded University of British Columbia.
Bartells, 18, graduated this year from The Dalles High. He worked his way up through the local baseball programs to play shortstop for The Dalles High. He is also playing on the Columbia Gorge Hustlers "AAA" team this year.
"I think about just playing with the group of guys that I've played with since we were younger," Bartells said. "When it came down to these last three years, they were a group of guys that I can't say enough. We played together since we were little and it's fun to see us all come down to what we are working at and have a common goal.
"I think we have come a long way since then and having that chemistry for playing together and knowing what the other guy was going to do — it was fun."
During the regular 2014 season, Bartells scored 29 runs and had an on-base percentage of.406 in 95 official regular-season at-bats.
In 12 league contests, Bartells finished tied for the team lead with 13 runs scored, had a.310 batting average and drove in four runs.
Out at shortstop, Bartells was his usual steady self with a.913 fielding percentage with four errors on 46 total chances.
"It has been an honor to coach Steve over these past four years," said Eagle Indians and Hustler coach J.R. Runyon. "His character, commitment, drive and passion for the game is unrivaled. It has been fun to watch his growth and success over the years and I am happy to see him take the next step in his baseball career. Steve has been our shortstop over the past four years and has done an amazing job for us. He will be tough to replace."
Bartells started with the varsity program during his freshman year. In his junior year he was first team all league and second team all-state. During his senior year he was first team all-league and honorable mention all-state.
"Not only is Steve a great ball player, but he has great character make-up," Runyon said. "I could always count on Steve to do the right things when nobody is watching and without being asked. When players leave this program, we want them to not only be better ball players, but to be better people. Steve is a prime example of what hard work and dedication can get you. Play the game the right way and give everything you have every day. I am extremely proud of Steve and can't wait to hear about his future success."
Bartells said he plans to get his degree in business. After his second year, he expects to have an internship with Nike.
"I hope to go into the business field with Nike after I get my full degree," he said. "I know people that work for Nike and they said amazing things about the job. Concordia has very good communications with Nike. That led me to the college, too."