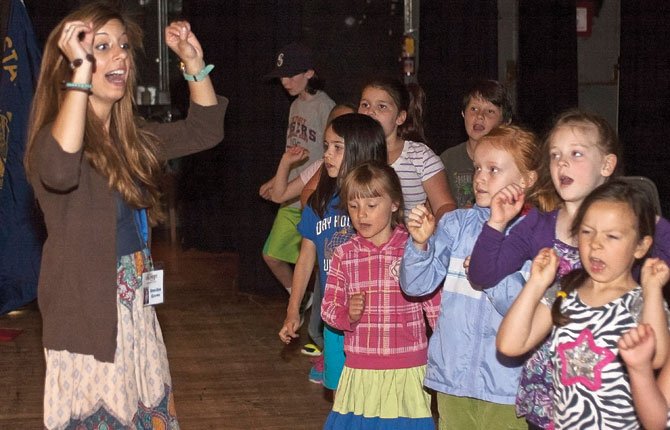 A long line of children ranging from ages 6 to 9 crouch on stage in a flood of bright lights with brows furrowed and eyes trained firmly upon an invisible audience.
With a shout of "Grow, mushrooms, grow!" from two neighboring "ogres," they wriggle their way to full height to the beat of the music with arms stretched high above their heads and delighted expressions on their faces.
Missoula Children's Theatre and the Theatre Company of The Dalles will present "Rapunzel," a musical tale full of fun and fantasy featuring 58 local actors from the ages of 6 to 16, who will be performing Saturday, June 21, at 2 p.m. and 7 p.m. in The Dalles High School auditorium. Tickets are $5 for adults and $3 for students, and are available at the door. The Theatre Company of The Dalles describes the play as a "zany" adventure bursting with excitement.
"Out of the tower and on the run," it follows the trials and tribulations of the long-imprisoned Rapunzel as she makes her harrowing escape from the evil Madame Gothel with the help of her many magical friends.
The turnout for this year's June 16 community auditions was nothing less than "extraordinary," according to long-time Theatre Company of The Dalles member and Missoula Children's Theatre liaison Melanie Brown.
"Sixty-eight kids came out to audition and this is the first time in at least as long as I can remember that we've actually had to turn a few away," she said. "Fifty-eight children were cast and they're truly a wonderful group — I can't wait to see all the great energy they bring to Saturday's performances!"
The week-long program is made possible by the traveling team of Missoula Children's Theatre staff who act with and direct each group of students for several hours every day in order to produce a full-scale musical by the end of the week.
Touring through all 50 states, 17 different countries and reaching on average about 750,000 audience members and casting over 65,000 youth community actors a year, it's one busy summer schedule for Rapunzel's dynamic acting-directing duo.
This year's Missoula team features Jennifer Crews of Vermont and Shera Haase of Kansas, who have been working hard all week to help the young actors memorize their lines, learn the songs and really "take ownership of their characters"—be they ogres, magical garden mushrooms, wood elves, pixies, gremlins or Rapunzel herself.
"Caffeine is definitely our best friend," Haase said with wide, exaggerated eyes during the cast's short lunch break in between hours-long rehearsals. "But you know it's really all about having fun out in the middle of wherever we happen to be for the week. Each group of kids is so unique; it's great to have an opportunity to get to know them and work with them to make a script come alive on stage."
"It stinks we can only be here a week," Crews agreed. "But we really do get an amazing chance to leave a thumbprint on the community in an incredibly positive way that, hopefully, some of these kids will remember for a really long time."
"The program really is more than just putting on a play and getting kids to remember their lines," Haase said. "We're actually helping them build a lot of life skills on stage, whether it's learning how to work as a team or how to be responsible and do their part. The entire experience is perfect for building confidence, and I figure if at the end of the day kids can walk out of here with their heads held a little bit higher, we're doing our job."