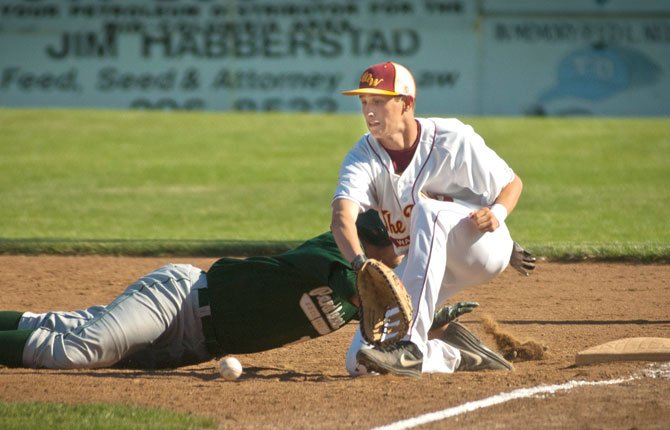 Austin Wilson will trade his Eagle Indians ball cap for a Timberwolves hat this fall.
The 2014 The Dalles High School graduate has signed a letter of intent with Blue Mountain Community College.
"I like the atmosphere of the town," Wilson said Thursday. "It's a small, quiet town where I can focus on baseball and get my priorities straight."
Judging by his record with the Eagle Indians, baseball has always been a top priority for Wilson. He served the team in a variety of roles, including pitching, first base and center field — and provided power at the plate.
During 2014, Wilson had 94 plate appearances and ended up scoring 23 runs, driving in 21 runs and a .394 on-base average.
Wilson had 10 walks in league play and nine RBIs, eight runs scored and added an on-base percentage of .410, fifth amongst the regulars.
The TD senior committed one error in 53 fielding chances for a .981 percentage with five assists.
On the mound, Wilson had an earned run average of 4.77 and allowed 24 earned runs and struck out 20 in 29 1/3 innings.
Wilson, a southpaw, posted a 3-1 record and had a save.
"Not everyone gets the chance to play at the next level and, as a coach, it is a great feeling to have players get the chance to go on and continue their baseball career," said TD and Hustler "AAA" coach J.R. Runyon. "I am very proud of Austin and all that he has accomplished over the years.
"Whatever position we put Austin in, he has excelled. He has been a main contributor for our offense and defense over the years and he will be tough to replace."
Runyon said Wilson shows a quiet confidence in the way he plays.
"He is one of the hardest workers on the team and I am happy that the hard work has paid off for him," Runyon said. "He has been a pleasure to coach over the years and I look forward to seeing his future success in baseball and in life."
Wilson expects to be competing as a pitcher. He will be working toward his transfer degree at the college, then transfer and major in business administration.
Wilson, the son of Angie and Rick Wilson, has played baseball since he was a child in The Dalles.
"I played Little League in the JBO Sluggers program," Wilson said. During the week he would play in The Dalles, then he would travel to Portland and play against other JBO teams on the weekends. "It was like an all-star team for weekends."
He joined the varsity team at The Dalles High in his sophomore years.
"I got thrown in and developed over the years," he said. "It's just a good place to learn how to play, so I could hopefully continue on playing."
He is playing this summer for the American Legion Columbia Gorge Hustlers.
"The Hustler program is good because we played against older kids," Wilson said. "Playing against good, competitive teams all the time you had to better yourself to play against older kids."
Now he is among the older kids, teaching the youngsters a thing or two to help them improve their skills.