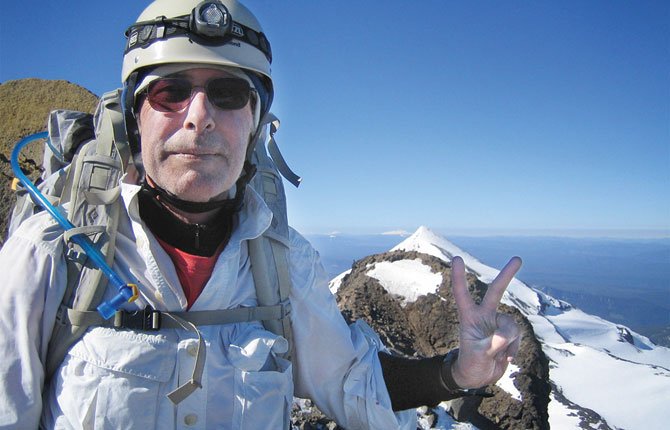 Paul Crowley, presiding judge for the Seventh Judicial District, has heard it all in 23 years on the bench — horror stories, excuses and rationalizations — and will still walk into retirement with hope for mankind.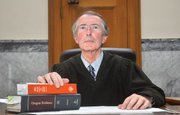 "One time I had a young man slumped down in his chair and appearing incredibly disrespectful," he said. "But, after I had studied him awhile, I could see that he was really scared and trying to act tough. What I had in front of me was an intimidated man child."
Crowley took the time to explain to the defendant what was happening in the legal proceedings and convey that he was there to hear both sides of the story.
"I treated him with respect and kindness and he came around and realized that being in court wasn't so bad," said the judge.
Although Crowley uses "Irish intuition" to ascertain what to say to a defendant, he has been quick to rebuke individuals who exhibited open defiance or ca­me to court "exposing much more of their person than it's appropriate to show."
Sometimes he has recommended the individual be taught how to dress or act appropriately as a condition of probation.
"The bench is a tremendous bully pulpit that can be used to explain, help people understand and educate them," he said.
"I think it's important you have empathy for people who appear in front of you. It may be the 489th DUII case brought before you, but it is the defendant's first."
Future Plans
When he leaves elected office at the close of the day June 30, Crowley, 55, will take his experience as a judge, defense attorney and certified public accountant into the role of professional mediator.
He plans to help with private litigation cases and disputes involving public interests.
"I find it tremendously satisfying and rewarding to help solve other people's problems," he said. "In a settlement conference you get to know a person's wishes and desires, and I usually leave feeling like I've met a friend."
An example of Crowley's skills can be found in the 2012 budget dispute over regional jail expenses involving Hood River and Wasco counties. Government leaders were at odds with the funding formula in the Northern Oregon Regional Correctional Facilities budget.
Hood River wanted to quit paying for bed space that was not being used and Wasco County wanted operational expenses to be divided in the same percentages as when the jail opened in 1999. Officials from Gilliam and Sherman counties, also stakeholders, sided with Wasco and the impasse led to talk of dropping Hood River from the partnership.
Crowley stepped in to mediate that point of contention and a compromise funding plan was agreed upon. He encouraged representatives from the four counties that served on the jail board to agree that the new formula would not be altered without consensus. He said any county that was experiencing financial difficulty should be able to request that the plan be revisited.
"Things do change and nothing can be set in stone," he said at the conclusion of the mediation session.
In terms of an office for his new venture, Crowley will have "a laptop, a white board and a telephone."
Under an agreement with the state judiciary, Crowley will take the bench 35 days per year for five years to fill in wherever his services are needed. He doesn't envision spending much time in either Hood River or Wasco counties since retirees Bernie Smith, John Kelly and Donald Hull are already available.
Although he has found his years as a judge rewarding, Crowley is ready to move on to new challenges.
"I've been doing this for a really long time and things are extremely comfortable," he said. "And I don't want life to get so comfortable I lose opportunities."
New Heights
He recently earned a lifetime membership with the Crag Rats search and rescue team, based in Hood River, by climbing to the summit of North Sister, the lowest of the mountains required to earn a place in the group, but one of the most technical climbs.

Reaching the elevation of 10,085 feet was a milestone for Crowley, who has also climbed Mount Rainier, Adams, Jefferson, Hood and the Middle and South Sister.
He is learning to kiteboard and pondering an outlet for writing that is "yet to be determined."
"I have ideas but it's a work in process," said Crowley.
He and wife, Susan Garrett Crowley, an attorney, journalist and photographer, will continue to reside in Hood River and take part in whatever adventures come their way.
During a retirement interview the conversation with Crowley turned to life outside the courtroom.
He and Susan don't spend much time watching television, although they have enjoyed the series "West Wing" over the course of the past few months.
"We only have an antenna in the house so our TV is limited," he said.
He is drawn to the works of Ernest Hemingway, said Crowley, because they are "more communicative because they are clear, short and use a direct approach."
He said judges do, indeed, get frustrated as human beings but are trained to seek out a resolution to problems.
When asked how he stayed alert during tedious trials, Crowley said it was the obligation of a judge to "shepherd" things along and be prepared to rule on objections to points of law.
Business of Justice
"People appreciate order," he said. "And I don't think most people think about it but we are running a large business to administer justice with five work centers (the district serves Hood River, Wasco, Gilliam, Sherman and Wheeler counties) 24 employees and five landlords."
Crowley describes himself as a "relatively shy person" and said the role of judge brings a certain amount of loneliness.
He has to be watchful that social conversations do not stray into pending cases or areas of past matters that he is prohibited from talking about.
In addition, he said many people in the community have stood before him at some point in time — either in a criminal case or to litigate a civil matter — and that can make them uncomfortable.
"In the eye of most members of the community, you are a judge 24/7 and, to an extent, that can shut down communication," he said.
Crowley lost interest in pursuing a position at a higher court level after realizing that would bring an even greater sense of isolation.
"I spent a guest day at the Oregon Court of Appeals and the judges were reading and writing most of the day," he said.

"People appeared from a distance and were given 15 minutes to argue a case and then they were done."
The feeling of detachment has been somewhat alleviated, he said, by having three new judges — John Olson, Janet Stauffer and John Wolf — in the seventh district. He said everyone is now in frequent communication and decisions are made by consensus, which is a first in his long career.
"We've truly become a judicial district of five counties working together and have standardized a lot of processes that needed to be standardized," he said.
Crowley also credits the dedication and efficiency of Trial Court Administrator Sherry Smith and Judicial Assistant Kim Epperson for the smooth operation of the seventh district.
"They're intelligent, hardworking, loyal people," he said.
Coming in September 2015 is the e-court system, which will be paperless and enable a judge in one county to easily access files from another.
"There is a certain amount of irony in that I chaired the state work committee to set up that process and we will be some of the last courts to get it," said Crowley. "But I guess by the time that we do, all the bugs will be worked out."
He is pleased with Gov. John Kitzhaber's appointment of Hood River attorney Karen Ostrye to fill the vacancy that will be left by his departure.
Olson, who also lives in Hood River, will take on the role of presiding judge and Ostrye will fill his position.
"I talked her into applying so I was very pleased to have her appointed," Crowley said.
"She's open-minded, and a team player, as well as being intelligent with a strong background in domestic relations and juvenile work, which is a lot of what we do. She is also experienced in criminal work, the third leg on the stool."
Looking back, there are two cases that are especially memorable to Crowley, one involving violence and the other centered on the complexities of scientific data.
The conviction of Forge Dennis Mileham, Jr., of Hood River in 2009 for the rape, sexual assault and strangulation of several female victims was a reminder of the importance of having justice served.
"I think that case reminded me of the incredible violence that is out there," said Crowley.
The criminal pollution case involving public waterways against David Ryan, owner of Hood River Juice Company in 2010 is also one that the judge will remember.
The matter involved the presentation of scientific evidence in lengthy pre-trial hearings.
Ultimately, the case was resolved just two weeks before the jury trial was set to begin when Ryan pleaded guilty to two misdemeanors.
"It was one of the most scientifically complex cases that I've heard and I had attorneys on both sides submit closing arguments in writing. I lined them up, side by side, to truly understand," said Crowley. The key to coping with a daily diet of criminal behavior, he said, was to learn early on to leave the trials and tribulations of others behind at the office.
"I think it's really important to be able to compartmentalize and have different aspects of your life," he said.
Background
Although Crowley originally set out to become a certified public accountant, and dabbled in a few other potential career choices, he eventually settled on law school and graduated from Willamette University in Salem.
"I've always considered myself a courthouse rat, I just like the dynamics of what's going on," he said.
His first job in the gorge was as a public defender with the Hood River firm of Pitcher and Wright, which eventually became Morris, Smith, Starns and Sullivan (after a few partner changes).
On Sept. 11, 1991, Crowley was appointed to the bench by then Gov. Barbara Roberts and the rest is soon to be history.
With plans for the future, and a sense of satisfaction about his public service, Crowley is ready to lay down the gavel.

There are, after all, new mountains to climb and all the time in the world to reach the summit.