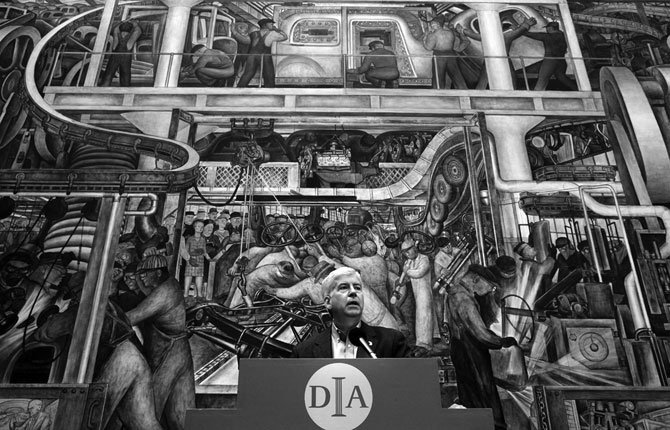 A glimpse of Diego Rivera's 1930s "Detroit Industry" mural at right evokes the essence of the Motor City, right down to the layer of grime that comes along with being a hard-working manufacturing town.
It is one of the works of art that will be saved from the auction block if a public-private "Grand Bargain" is accepted by the city's pension-holders in a July 11 vote.
The deal would replace hundreds of millions of dollars being cut from retiree pensions and stop creditors from forcing the sell-off of the city's art collection, which also includes Van Gogh's "Self Portrait."
The city filed for the largest municipal bankruptcy in history last summer. Its leaders now hope to emerge from the same by the end of summer.
Faced with the decay of its manufacturing economy and the consequent flight of its population base, plus the heavy pension burden of 32,000 retirees, current and
former city workers, Detroit had no real alternatives.
Even though the city's decay was a long time in the making, it had few options other than bankruptcy. Yes, Detroit has experienced a small glimmer of renaissance, but not enough to support the remnants of a once great city forced to downsize.
Detroit's story is a cautionary tale for cities of any size: prepare for the future, anticipate changes of fortune, scale services — and savings — with that knowledge in mind. Of course, it is unlikely that Detroit could have anticipated the degree and duration of its downfall.
Columbia Gorge communities have experienced similar slides, in particular where the collapse of the logging and aluminum industries are concerned. We are fortunate cities in this region didn't succumb to bankruptcy during those periods in our history.
Like Detroit, we had help from the government. Retraining workers and finding other businesses to help fill the gap eased the hurt some and shored up area tax bases. But, also like Detroit, the gorge was left with a slightly less vital economy and no simple answers to make it more so.
That's changed in recent years. Aerospace and other technology industries have moved in to bring new life to the economy. Improved prices in agriculture have brought more money into this largest financial sector.
Of course, many of the jobs of the new economy require more training than the timber and aluminum jobs of yore, but what doesn't?
The prospects for people with only a high school diploma are more dismal than they were when timber and aluminum jobs were available.
Likewise, the prospects for maintaining county services, specifically roads, are declining without the enrichment timber revenues brought to county coffers.
If we've learned anything from the economic ebbs and flows of the past, we should know that changes can occur in a blink with long-lasting effect.
From massive Detroit to the smallest towns in the gorge, even if we can't see exactly what change is coming we should know that it is and plan accordingly with cautious use of resources and careful build-up of reserves.