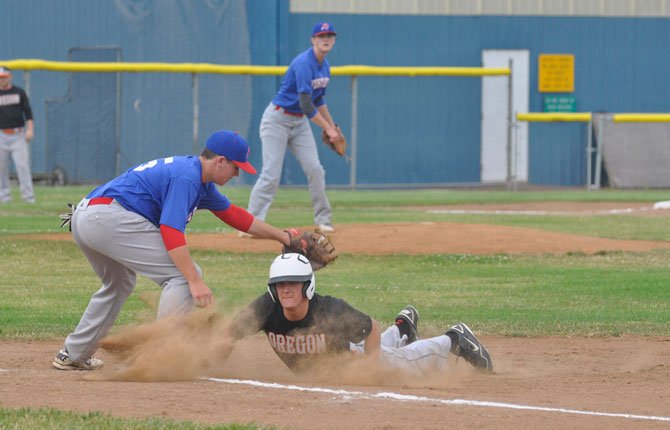 The Columbia Gorge "AAA" Hustlers split a doubleheader with the Capital City Select in Monday action at Quinton Street ballpark, dropping the opener 8-2 and winning the nightcap 12-4.
The Hustlers got out to an early lead when first baseman Zachary Keimig swatted a two-run single to left field, bringing home left fielder Colin Noonan and third baseman Nolan McCall for a 2-0 lead. Noonan had reached on a walk and McCall swatted a ground single to left to get on base.
"In the first game we couldn't get anything going after the first inning offensively," said coach J.R. Runyon. "They threw two good pitchers at us and we couldn't connect up to put the big inning together."
Right fielder Colton Walker had the only other hit of the game for the Hustlers, a single to right in the second inning.
That was all the Hustlers produced as the Select, although slow to start, scored regularly from the second through seventh innings.
Dakota Walker took the pitching loss, striking out two and giving up seven hits and three walks in two and two-thirds innings. Clayton Ringer pitched one and two thirds innings and gave up three hits. Shortstop Steven Bartells and Noonan each pitched for an inning of less and struck out one each.
Game 2 told a different story as the Hustlers got out to a rollicking nine-run first inning. Bartells got things rolling, reaching first off a shortstop error. Noonan singled to center. McCall was hit by a pitch. With the bases loaded, left fielder Clay Copper got a walk that put Bartells at the plate for the team's first run.
"I thought, offensively, we really responded well in the second game," Runyon said. "Players were squaring up pitches right from the start, scoring nine runs on seven hits in the first inning was a huge boost. I thought Wilson and Olsen did a great job of holding them to four runs, of which only two were earned."
Singles from Keimig and pitcher Austin Wilson brought Noonan and McCall home. Catcher Kellen Mathisen's double knocked in Copper and Keimig. Second baseman Bryson Caldwell advanced the action with a single, then Bartells doubled to bring home Mathisen. Noonan flew out to left field, but brought home Caldwell in the process, then McCall capped the inning with a double to plate Bartells for a 9-0 first inning lead.
The gorge team could have rested on its laurels at that point, but kept on plugging. Caldwell earned his second hit of the game, a single in the third inning, scoring later on a passed ball. Noonan walked, then scored on Copper's sacrifice fly, for an 11-2 lead.
The select picked up one run in each for the fourth and fifth innings, then Bartells scored the final Hustlers run in the bottom of the fifth inning, reaching on a walk and coming home two batters later on a sacrifice fly by Copper.
Wilson posted the pitching win for the Hustlers, striking out two, walking two and giving up six hits. Reliever Connor Olsen struck out two and gave up three hits.
The Hustlers play at Prosser High School on Thursday.
'A' Hustlers roll over Douglas
The Columbia Gorge Hustlers 'A' pulled together a 15-5 five-inning victory over David Douglas High School June 20 at home.
"Dylan Desrochers pitched four solid innings with five strikeouts," said coach Matt Eby. "Justin Sargeant closed the door on the Scots in the fifth inning, throwing only eight pitches."
The Hustlers racked up 11 hits with Matt Strizich's 2-for-2 hitting performance and three runs leading the way. Taylor Chamberlin added a 2-for-4 performance.
In Game 2, Kellen Mathisen battled through seven innings, giving up only five hits and striking out seven in a 10-9 nailbiter win.
Colton Walker hit 2-for-3, Colin Noonan went 2-for-5 and scored 3 runs.
The Hustlers brought out the bats again in the bottom of the seventh to overcome a 4-run deficit.
Colton Walker batted in 2 runs followed by Eli Holeman, knocking in the winning run, with a walk off hit. The Hustlers are 4-4 with a doubleheader tonight against Hermiston.