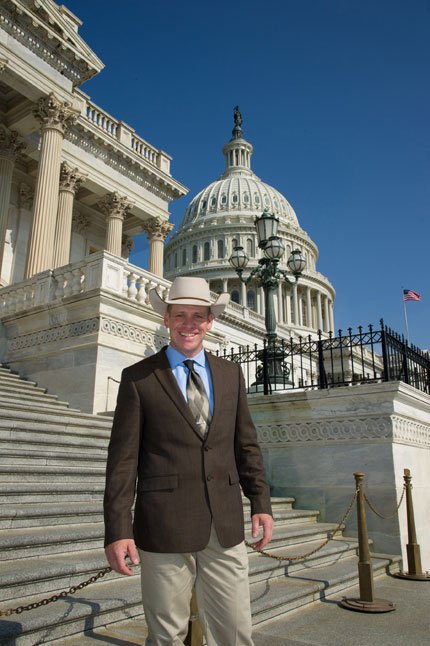 Maupin rancher Keith Nantz's mission to educate consumers about challenges facing the beef industry recently gained new ground with his election as chair of the National Young Cattlemen's Committee.
The committee is part of the National Cattlemen's Beef Association and Nantz was elected to the position by his peers during a recent trip to Washington, D.C.
What that means is that he will be at the top of the call list to testify before Congress when policies are being debated that affect the way that ranchers do business.
"The next generation of livestock producers in Oregon are well served by Keith Nantz' dedicated advocacy for Oregon's livestock industry and rural communities," said U.S. Rep. Greg Walden, one of Oregon's congressional delegation visited by the cattlemen and women.
"Meeting with policymakers in our nation's capital, Keith was able to raise the challenges and concerns many young ranchers face as they work to continue Oregon's generations-old tradition of helping feed the world."
Nantz is vice-chair of the Oregon Young Cattlemen's Committee for the Oregon Cattlemen's Association, which sponsored the trip.
The purpose of the group's visit to the nation's capital, and attendance at the 35th Young Cattlemen's Conference, sponsored by the national beef association, was to train the next generation of leaders.
They were taught about policy issues and regulations that are making it more difficult to raise livestock, which has led many small ranchers to quit the business in recent years.
Then there were meetings with staff from several of Oregon's elected officials, including Sens. Ron Wyden and Jeff Merkley.
"I just had an open discussion about the issues that cattlemen are bringing forward," said Nantz, who is president of the North Central Livestock Association, which serves Wasco and Sherman counties.
He found a presentation at the New Zealand embassy to be especially interesting. The beef industry had once been heavily subsidized and regulated but, once it became a free enterprise system, there was exponential growth.
"That is a good model for Americans to look at because this is the safest and most efficient food production system in the world – but a utopian idea about how things should be is regulating us out of business," he said.
Before heading back east, the cattlemen and women had visited one of the nation's largest feed lots near Denver, Colo., that had an 85,000-head capacity.
A feed lot is where cattle are fattened up before being slaughtered and processed for the marketplace. Their next stop was the JBS Packing Plant, which processes about 5,000 head a day.

Along the way, there were presentations by experts in the field, including CattleFax, which compiles economic data about trends in the industry and passes it on to producers and government leaders.
"They teach you, through classroom education and hands-on learning, every segment of this industry," said Nantz. "We were really able to see how increased regulation is leading to a decline in the food supply at a time when the world's population is growing — and that is going to mean incredibly higher prices in beef."
Before journeying on to D.C., the group flew to Chicago, Ill., and toured the market exchange to learn how wheat is traded.
OSI Industry officials also talked about producing five million hamburger patties per day for McDonald's fast food restaurants.

"It was interesting to see how things are different throughout the country," said Nantz. "One thing that became clear was that we are all intermingled, if the cow-calf sector is not doing well, the feed lots aren't going to be either."
As chair of the national committee, Nantz will attend a convention in San Antonia, Texas, in February 2015 and be a tour guide for other cattlemen and women next year.
"I think the tour really brought home to me that we need to work more collectively and with better teamwork as an organization to benefit the industry," he said.