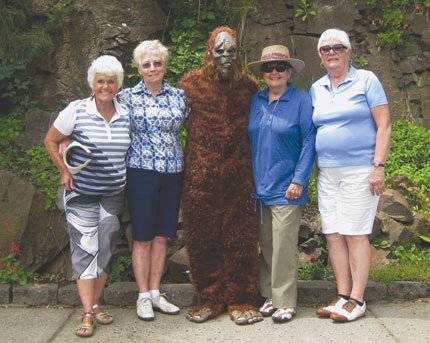 The 40th annual Sasquatch 4s Women's Best Ball event was held June 20-22 at The Dalles Country Club. Before the golfers took to the course, "Sas," the Sasquatch made a visit and posed for pictures with each of the teams.

In the net tournament, Darlene Barber, Beverly McKinney, and Marylee Webber from TD and Pat Edmondson, from Hermiston, combined scores to win with a 268. A group from Hood River, Susan Gutzler, Patsy Prideaux, Jo Smith and Toni Nippolt, came in second with a combined score of 273. Following at a close third was Mindy McHale and Nancy Jacobson from TD and Linda Phillips from HR and Nicole Campbell from Goldendale, with a 274.
The team of Laura Hess, Stephanie Adams, Bev Tuttle and Lori Harris, came away with a low gross score of 351.
Saturday, in the best ball event, Hess, Adams, Tuttle and Harris, won with Shirley Muhich, from Vancouver, Dorthey Spurek, Mindy McHale and Nancy Jacobson, from TD, took second place.
In the Sunday best ball event, Barber, McKinney, from TD and Gutzler andPrideaux, from HR took the honors. The team of Marylee Webber, Pat Edmondson, Mindy McHale and Nancy Jacobson, took second.
Beverly McKinney had a shot of 4ft, 3", to win the special KP division and take home a golf bag donated by Bob Sproule's Golf shop and head covers made and donated by Bev Tuttle.
Darlene Barber was also honored for being the longest playing member of the "Sasquatch". She has played for 39 years.
After horrendous days of gale force winds, the ladies had two very calm days with plenty of sunshine to celebrate this grand event of 40 years.