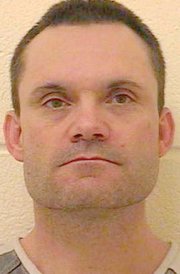 James Howard Stark, 44, of The Dalles was sentenced June 20 to 96 months in prison for possessing stolen property that included the door and chimney of a Ketchum Road cabin.
"The cabin was stripped of everything, even the kitchen sink," Wasco County District Attorney Eric Nisley told Judge John Olson at Friday's hearing.
Stark denied involvement in the burglary at the cabin or another home in Dufur, both in 2012. He also protested the accusation that, during that same year, he had stolen equipment from an Eightmile Road orchard and 21 sets of tires from a business in The Dalles
"I think I was put into a situation here, too," he said. "By receiving some of this stuff, I may have ruined my life."
Nisley pointed out to Olson that Stark had a long criminal history that included 57 prior convictions for non-person felonies, such as delivery of methamphetamine.
He said the defendant was also awaiting adjudication of a federal court case involving his illegal possession of a firearm. Stark later confirmed that he was in plea negotiation with federal prosecutors and was likely to spend 10-13 years behind bars for that crime.
"It's sad to say that some people need to be shut away to keep the rest of us safe," Nisley said.
In a follow-up interview, Nisley said Oregon law allows a person to be charged with theft if he receives stolen goods. He said evidence from all four crime scenes was found at Stark's home on Kase Street, and in rented storage space on Hostetler Street and property he owned in Umatilla County.
According to court reports, one of the computers taken from a home was used by Stark to set up an email account linked to Cheaters.com, a casual sex website.
In a two day bench trial last week, Olson found Stark guilty of theft charges involving three properties and the defendant admitted guilt in regard to accepting furnishings from the cabin.
The judge directed Stark, who was represented by attorney Randy Perkins of The Dalles, to pay $61,700 in restitution to the victims, some of which he will be able to work off in prison.

"It was a great shock for the family to have that happen," Nisley said of the cabin theft.
The district attorney said the victims of the Dufur home that was broken into had a teenage daughter who had not been feeling well that day and almost didn't go to school.
"They worry and ponder what would have happened if their daughter had stayed home," said Nisley.
He said when the tires, worth $5,000, were removed from the business, managers were left with the embarrassment of not having the inventory to fill customer orders.
"The stress put on this company was significant," said Nisley.
Stark told Olson that, although he had not committed the thefts, he was empathetic about the property owners' predicaments.
"I do have feelings and want to apologize to them, I think they deserve that," he said.
He was given eight years behind bars but Olson ruled that Stark could earn a "good time" reduction of about 20 percent. Once released, he will be on post-prison supervision for three years.
"I won't be coming back to court anymore," Stark said, adding he would accept "what happened (guilty verdict) and move on."
"I'm done soliciting property. I'm done bartering and that's my word to this court today."
Olson said he believed that Stark was remorseful and reminded the defendant that he had encouraged crime by buying stolen property.
"You are a major part of the problem and I think this sentence reflects that," he said. "I was struck that you are a person who has some charm and is intelligent. I'm perplexed because you have a lot going for you."
Stark said drug use "had a lot to do" with his poor life choices.
Nisley said it would have been "amazing" to see what Stark could have achieved if he had put his efforts into lawful conduct.